Nepal Envoy Notes Planned Supply of 50 MW of Electricity to Bangladesh
26 October 2022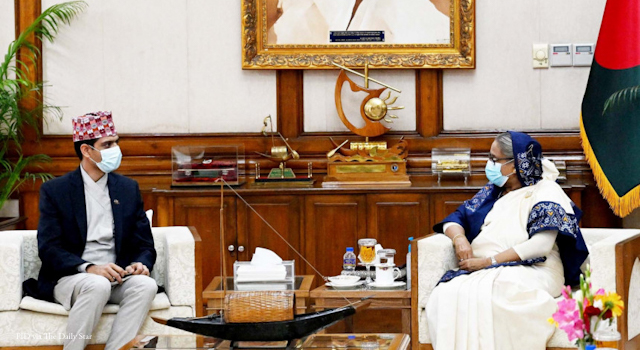 Mr. Ghanshyam Bhandari, newly-appointed Ambassador of the Government of Nepal to the Government of Bangladesh, met Bangladesh Prime Minister Sheikh Hasina. In the meeting, he noted that Nepal will initially supply 40-50 megawatts (MW) of electricity to Bangladesh, and increase the supply further upon completion of the 900 MW Upper Karnali hydropower project. Bangladesh is eager to buy 900 MW electricity from Nepal's mega power project. The envoy also confirmed Nepal's interest in using Banglabandha Land Port for trade due to its proximity to Burimari Land Port.
Prime Minister Hasina congratulated Ambassador Bhandari on his appointment and assured him of cooperation. She also underscored the importance Bangladesh places on connectivity with countries in the region, especially with Nepal, Bhutan and India.
Bangladesh and Nepal agreed at a Joint-Secretary Level Joint Working Group and Secretary Level Joint Steering Committee meeting in August that the Nepal Electricity Authority and Bangladesh Power Development Board would send a request to the NTPC Vidyut Vyapar Nigam Ltd of India for a trilateral power trade agreement to enable the export of 40 to 50 megawatts of power generated in Nepal to Bangladesh.
A report from the Kathmandu Post noted that Nepal already notified India about the decision it had taken with Bangladesh. The issue, which includes trilateral energy sale and purchase agreement, will be discussed during an upcoming bilateral meeting between India and Nepal.
Related links
Bangladesh to get 50MW electricity from Nepal
Nepal notifies India on deal with Bangladesh to seek facilitation for power trade