SAARC Member Countries Officially Invited to 18th SAARC Summit
27 October 2014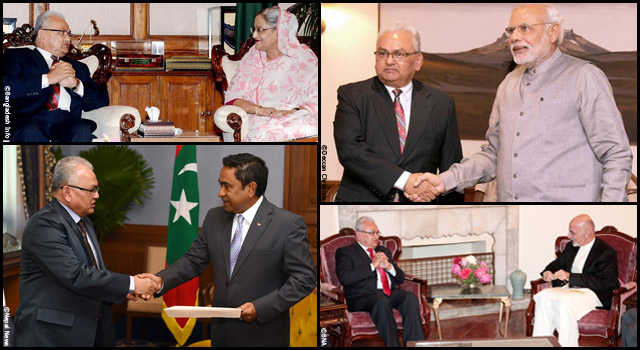 Nepal Minister for Foreign Affairs Mahendra Bahadur Pandey paid official state visits to Heads of State and member country governments of the South Asian Association for Regional Cooperation (SAARC) – comprising Afghanistan, Bangladesh, Bhutan, India, the Maldives, Pakistan, and Sri Lanka – to personally submit Nepal Prime Minister Sushil Koirala's invitation letters for the 18th SAARC Summit.
The Summit, scheduled to take place in Kathmandu, Nepal on 26-27 November 2014, has adopted the theme "Deeper Integration for Peace, Progress, and Prosperity" and will focus on strengthening connectivity and linkages among SAARC member countries, including energy cooperation, and air, rail, road, and water links. Minister Pandey has also said that Nepal is preparing to sign at least three agreements relating to connectivity during the Summit: the SAARC Railway Agreement; SAARC Motor Vehicle Agreement; and SAARC Framework Agreement on Energy Cooperation. Draft proposals for these agreements have been previously agreed by members.
A 31-point draft declaration has also been prepared. This includes issues on investment, infrastructure development, reduction of telecom tariffs in the region, regional connectivity, SAARC Development Fund, South Asian Freed Trade Agreement, trade, and transforming SAARC into South Asian Economic Union by 2030.
This regional event will begin with a Programming Committee Meeting attended by joint secretaries on 22 November, followed by the Standing Committee Meeting to be attended by foreign secretaries on 23-24 November, and the SAARC Council of Ministers Meeting on 25 November. Inauguration of the 18th SAARC Summit will take place on 26 November, followed by the Summit declaration on 27 November.
SAARC member countries are set to send advance teams to Kathmandu in the first week of November to assess Summit preparations concerning programs, logistics, and security arrangements. Nepal's Ministry of Foreign Affairs is expecting to receive advance teams from Bangladesh, India, Sri Lanka, and Pakistan.
This year's Summit follows the 17th SAARC Summit that took place in Addu City, the Maldives on 10-11 November, 2011.
Related Links: