Bangladesh and India Discuss Subregional Energy Cooperation, Expediting BBIN MVA Implementation
8 September 2022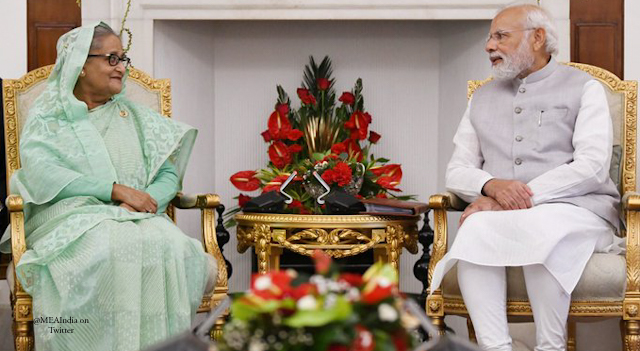 Bangladesh Prime Minister Sheikh Hasina undertook a state visit to India on 5–8 September 2022 at the invitation of India Prime Minister Narendra Modi. Prime Minister Hasina's visit emphasized the continued growing connectivity between Bangladesh and India. Their discussions highlighted several developments in bilateral relations in trade and connectivity, power and energy, and people-to-people linkages. The meeting also agreed to strengthen subregional cooperation in the power sector involving Bhutan and Nepal, as well as expedite efforts for the early implementation of the BBIN Motor Vehicle Agreement. India also offered Bangladesh free transit via its territory for exporting its products to third countries through identified Land Customs Stations/Airports/Seaports.
In his statement, India Prime Minister Narendra Modi lauded Bangladesh's remarkable progress under the leadership of Prime Minister Sheikh Hasina. He stated that in the last few years, mutual cooperation between the two countries has increased rapidly in every field. Today, Bangladesh is India's largest development partner. He underscored that relations between the two countries have steadily grown and announced that they held extensive discussions on a range of bilateral, regional, and international issues.
Outcomes of the high-level meeting include the following:
Emphasized importance of implementing bilateral and subregional rail, road, and other connectivity initiatives. The meeting noted


The conversion to dual-gauge of Tongi-Akhaura line, supply of railway rolling stock, capacity building for the personnel of Bangladesh Railway, and sharing of IT solutions for improved services of Bangladesh Railway.
New initiatives, such as Kaunia-Lalmonirhat-Mogalghat-New Gitaldaha link, establishing a link between Hili and Birampur, upgradation of track and signaling systems and railway stations along the Benapole-Jashore line, link restoration between Burimari and Changrabandha, construction of a container depot at Sirajganj, and agreement to explore funding of these projects through a range of financial instruments under the bilateral development cooperation.
Bangladesh also welcomed India's offer to provide 20 broad-gauge diesel locomotives on grant.

Acknowledged growth in bilateral trade between the two countries. India has emerged as the largest export destination for Bangladesh in Asia. In this regard, Bangladesh requested a stable supply of essential food commodities from India, including rice, wheat, sugar, onion, ginger and garlic. India conveyed that Bangladesh's requests will be favorably considered based on prevalent supply conditions in India, and all efforts will be made in this regard.
Agreement to expedite the implementation of projects to connect the two countries' power grids synchronously through a Bangladesh-India Joint Venture for a Special Purpose Vehicle, and strengthen subregional cooperation in the power sector.

They noted the proposed high capacity 765 KV transmission line from Katihar (Bihar) to Bornagar (Assam) through Parbatipur in Bangladesh.
Bangladesh requested to be able to import power from Nepal and Bhutan through India. India informed Bangladesh that the guidelines for the same are already in place in India.

Discussion of the expansion of the bilateral Coastal Shipping Agreement of 2015


Both Leaders welcomed the successful completion of trial runs under the Agreement on the use of the Chattogram and Mongla Ports (ACMP). Both Leaders expressed hope toward its full operationalization.
India reiterated its request to work towards the expansion of the bilateral Coastal Shipping Agreement of 2015 to include third-country export/import cargo.
They also agreed to expedite exploration of direct shipping links between the two countries, and implement the decision to start riverine services under the Protocol on Inland Water Transit and Trade (PIWTT) routes 5 and 6 (Dhulian to Rajshahi -extension to Aricha) and 9 and 10 (Daudkandi to Sonamura).
India requested Bangladesh to complete the remaining infrastructure, immigration, and customs facilities for the smooth operationalization of the Maitri Bridge over River Feni, connecting Tripura with Bangladesh, at an early date.

Agreement to expedite efforts to improve bilateral and subregional connectivity through early implementation of the BBIN Motor Vehicle Agreement; initiate new subregional connectivity projects, including a highway from Hili in West Bengal to Mahendraganj in Meghalaya (India) through Bangladesh; and Bangladesh's potential participatioin as partner in the ongoing India – Myanmar - Thailand trilateral highway project initiative.
Offer of free transit by India to Bangladesh via its territory for exporting its products to third countries through identified Land Customs Stations/Airports/Seaports.


India invited the Bangladesh business community to use its port infrastructure for transshipment to third countries.
India has also been providing free transit to Bangladesh for exporting its products to Nepal and Bhutan.
Bangladesh also requested rail connectivity with Bhutan through the newly inaugurated Chilahati – Haldibari route. India agreed to consider the request, based on its viability and feasibility. To make this and other cross border rail links viable, India requested the Bangladesh to remove port restrictions, inter alia at the Chilahati – Haldibari crossing.

Acknowledgment that the Comprehensive Economic Partnership Agreement (CEPA) will be beneficial for both countries, according to a Joint Feasibility Study. They directed trade officials on both sides to start negotiations within the calendar year 2022 and to complete these at the earliest, in time for Bangladesh's final graduation from least developed country (LDC) status.

Stressed importance of the urgency to improve infrastructure and facilities at the Land Customs Stations/Land Ports, and for removal of port restrictions and other non-tariff barriers at identified Land Custom Stations.


India reiterated its request for at least one major land port without port restrictions or negative list of restrictions, on the border of India's northeastern region, for easier market access, starting with ICP Agartala-Akhaura.

Both Leaders welcomed the progress made on India's proposal to fund the development of a second freight gate at Petrapole-Benapole ICP and directed the officials to complete the work at the earliest.


Acknowledgement of their close cooperation during the COVID-19 pandemic including through Vaccine Maitri and Oxygen express trains to Bangladesh, and Bangladesh's gift of medicines to India. The two Leaders emphasized the need to increase people-to-people ties and expressed satisfaction at the resumption of rail, road, air and water-related connectivity.


Bangladesh welcomed reopening facilities at most of the road and rail immigration check posts and requested restoration of immigration facilities to pre-COVID-19 level at all land ports/ICPs to facilitate movement, at an early date.


Both Leaders welcomed starting of regular services of Mitali Express since June 2022, the third passenger train between India and Bangladesh.

Emphasis on the need to work for strengthened regional cooperation through regional organizations.


India expressed appreciation for Bangladesh's hosting of the BIMSTEC Secretariat and developing its infrastructure.

India also reiterated its support to Bangladesh in its capacity as the Chair of Indian Ocean Rim Association (IORA).

List of projects unveiled/announced/released during the visit
Inauguration of Rupsha railway bridge;
Unveiling of Unit-I of Maitree Super Thermal Power Plant, Rampal, Bangladesh;
Announcement of signing of project management consultancy contracts for Khulna – Darshana railway line and Parbotipur – Kaunia railway line;
Presentation of the book containing translation of the historic '7th March Speech' of Bangabandhu Sheikh Mujibur Rahman in 23 Indian and 5 languages of other South Asian countries, by Prime Minister Sheikh Hasina to Prime Minister Narendra Modi;
Announcement regarding offer of 20 broad gauge locomotives to Bangladesh Railway on grant basis; and
Announcement regarding supply of road construction equipment and machinery to Road and Highways Department, Government of Bangladesh.
Related links
Press Release: English Translation of Press Statement by Prime Minister Shri Narendra Modi during the visit of Prime Minister of Bangladesh to India
Press Release: Prime Minister of Bangladesh calls on the President