India Promotes Development of Multimodal Logistics Parks to Increase Efficiency
24 August 2022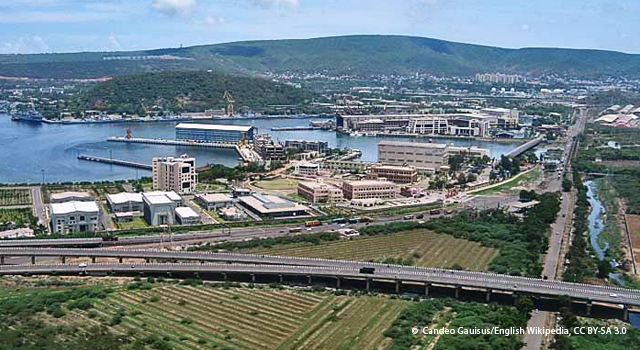 The National Highways Logistics Management Limited (NHLML), Inland Waterways Authority of India (IWAI) and Rail Vikas Nigam Limited (RVNL) of the Government of India signed a trilateral agreement that will work toward ramping up the development of India's multimodal logistics parks (MMLPs). The agreement aims to centralize freight consolidation and reduce India's logistics costs from 14% to less than 10% of GDP, on par with international standards. Cooperation and collaboration among the three institutions will promote further efficiency in logistics movement within the country.
MMLPs will be a freight handling facility accessible via rail and road. It will comprise of container terminals, cargo terminals, warehouses, cold storage, facilities for mechanized material handling, and offer value-added services, such as customs clearance, quarantine zones, testing facilities and warehousing management services. MMLPs will integrate multiple modes of freight transport through highways, railways, and inland waterways.
The signing was witnessed by Mr. Nitin Gadkari, Minister of Road Transport and Highways of the Government of India; Mr. Sarbananda Sonowal, Minister of Ports, Shipping, and Waterways, and Ayush; and Mr. VK Singh, Minister of State for Road Transport and Highways.
According to Mr. Gadkari, the MoU will promote seamless transit. MMLPs will ensure that cargo is swapped and/or shifted to and from waterways, dedicated freight corridors, and road transport. He added that this is nation building through Gati Shakti.
"Gati Shakti" is the Government of India's holistic infrastructure development program to improve the productivity of industries and raise employment opportunities. Through an integrated approach, the Government aims to develop modern railways, roadways, waterways and airways.
Mr. Sonowal highlighted that the agreement will benefit India, with the MMLPs designed to untie the cobweb of logistics movement and enliven the logistics sector to put the economy into the fast lane of growth.
The NHLML is a Special Purpose Vehicle (SPV) of the National Highway Authority (NHAI) of the Ministry of Road Transport and Highways. IWAI is a statutory authority under the Ministry of Ports, Shipping & Waterways. The RVNL is a wholly owned Public Sector Enterprise under the Ministry of Railways. The signatories of the agreement were Prakash Gaur, Chief Executive Officer (CEO), NHLML; Ravi Kant, Chief Engineer & Project Manager for IWAI and Vikas Awasthi, Executive Director (Planning), RVNL.
Related link
Photo by Candeo Gauisus