PM Hasina Calls for Stronger Asia-Europe Connectivity
27 October 2014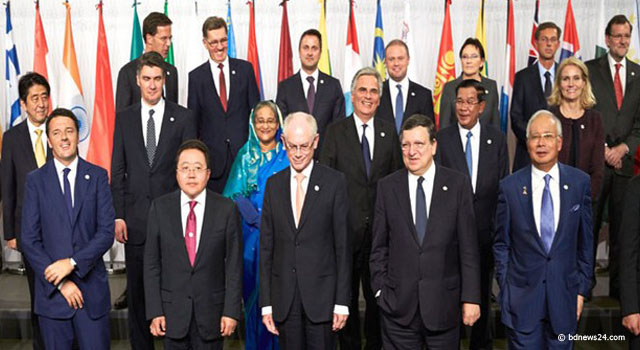 Prime Minister of Bangladesh Sheikh Hasina addressed the Plenary Session of the 10th Asia-Europe Meeting Summit 2014 and called for a more favorable trade regime, stronger technical cooperation, and better Asia-Europe connectivity. The European Union is Bangladesh's largest export destination and Asia is Europe's main trading partner with about US$2 trillion of Asia-Europe trade. With more than one-fourth of Europe's overseas investment going to Asia, Bangladesh seeks to create an enabling environment to further trade and investment.
Bangladesh has undertaken very significant infrastructure and connectivity projects to promote regional cooperation and special economic zones are currently being developed across the country. This allows potential investors to invest in Bangladesh and strengthen Asia-Europe connectivity, particularly with its growing integration into the regional connectivity framework.
Prime Minister Hasina also spoke about Bangladesh allocating US$385 million for adaption and mitigation of climate change since the country is highly vulnerable, with its unprotected coasts and rising sea levels. She further revealed Bangladesh's progress in expanding information and communication technology facilities. For instance, rural people receive healthcare services from 13,500 information technology-connected community health clinics.
The Government's vision is to transform Bangladesh into a middle-income country by 2021 and a high-income country by 2014.

Related Links: 
PM Calls for Strong Tie Between Asia and Europe
Bangladesh PM Pitches for Greater Asia-Europe Interaction
PM Urges Strong Partnership of Asia and Europe