Bhutan, India Inaugurate Three Projects Under Indian Assistance
29 April 2022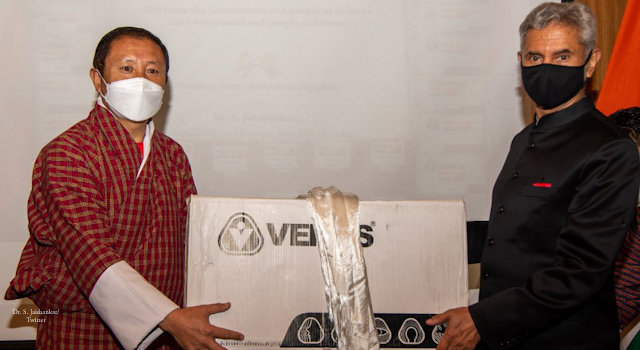 Mr. Tandi Dorji, Foreign Minister of the Government of Bhutan, and Mr. S. Jaishankar, External Affairs Minister of the Government of India, jointly inaugurated three projects in Bhutan that were completed with Indian assistance on 29 April 2022.
Mr. S. Jaishankar visited Bhutan on the invitation of Mr. Dorji. He is the first overseas high-level visitor in Bhutan since the onset of the COVID-19 pandemic in March 2020.
Projects inaugurated by the Ministers are the following:
Chubachu-Jungzhina four-lane road. Mr. Dorji noted this is the main trunk road in Thimphu that facilitates smooth flow of traffic and helps ease traffic congestion;
Bajo-Khuruthang secondary highway; and
Bumthang bus terminal.
Mr. Jaishankar in his speech dedicated the three projects to the people of Bhutan. He underscored how heartening it was to know the projects were completed despite the logistical challenges posed by the COVID-19 pandemic. He pledged that India would continue to stand resolutely by the side of Bhutan.
Related links
Foreign ministers inaugurate three projects
Jaishankar calls on Bhutan PM, exchanges views on current global and regional developments