Inter-Ministerial Coordination Group Formed to Further Mainstream India's "Neighborhood First" Policy
12 April 2022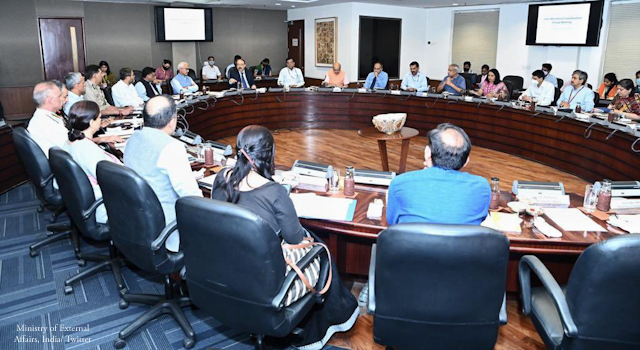 Mr. Harsh Vardhan Shringla, Foreign Secretary of the Government of India, convened the first meeting of the Inter-Ministerial Coordination Group (IMCG) on 12 April 2022.
The IMCG is a high-level mechanism aimed at mainstreaming India's "Neighborhood First" policy that aims to build greater connectivity, forge stronger inter-linkages, and greater people-to-people contact. The IMCG will "further improve institutional coordination across the government and provide comprehensive direction to this whole-of-government approach on India's relations with its neighboring countries," stated the news release.
Meeting participants included secretaries of Ministries/Departments of Home, Commerce, Finance, Fisheries, representatives from Ministries/Departments of Defence, Railways, Economic Affairs, Consumer Affairs, Agriculture & Farmers' Welfare, Information & Broadcasting and from Cabinet Secretariat, National Security Council Secretariat, including other relevant agencies along with heads of Border Guarding Forces.
The agenda discussed important decisions on various aspects of India's bilateral relationship with Afghanistan, Bangladesh, Bhutan, Maldives, Myanmar, Nepal, Pakistan and Sri Lanka in areas such as trade and investment, connectivity, border infrastructure, immigration, development cooperation, and border security.
Related links
At maiden meet, inter-ministerial group discusses border infra, rail to Bangladesh