Bangladesh Signs Intelligent Transport System Project under SASEC
9 April 2022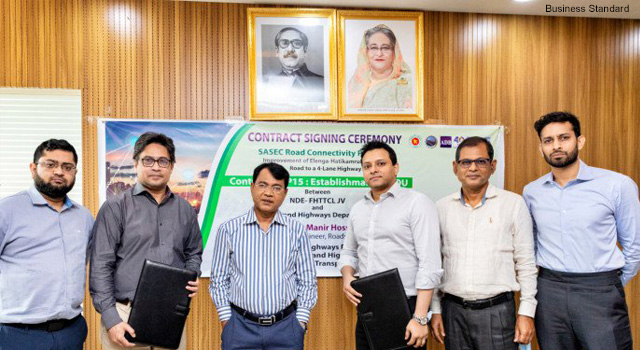 The Bangladesh Roads and Highways Department signed an $18 million contract with National Development Engineers Ltd. (NDE), based in Dhaka, Bangladesh, and China's FiberHome Telecommunication Technologies Co. Ltd. for Bangladesh's first dedicated intelligent transport system (ITS) project.
The project, under the South Asia Subregional Economic Cooperation (SASEC) Road Connectivity Project 2 (Package 15), is financed by the Asian Development Bank. Bangladesh is upgrading the 252-kilometer SASEC corridor from Joydevpur to Rangpur under the SASEC Road Connectivity Project 2.
The road corridor will be monitored with ITS and weigh-in-motion systems. ITS will integrate systems for automated incident reporting, traffic and vehicle data collection, and speed detection to assist traffic management through the road operation unit in Dhaka. LED message signs will also be installed on steel gantries as part of ITS.
Three-axle load control stations with medium-speed weigh-in-motion systems will be installed to transmit information on the weight and class of passing vehicles.
Related Links