Bangladesh and Sri Lanka Discuss Early Conclusion of the Preferential Trade Agreement
29 March 2022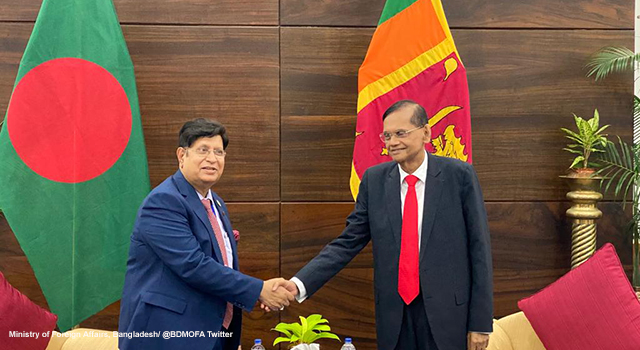 Mr. AK Abdul Momen, Foreign Minister of the Government of Bangladesh, Mr. G.L. Peiris, Foreign Minister of the Government of Sri Lanka, held a bilateral meeting on the sidelines of the 18th BIMSTEC ministerial meeting in Colombo, Sri Lanka. Their meeting underscored the importance of early conclusion of the Preferential Trade Agreement (PTA) to help significantly boost bilateral trade between the two countries.
PTA negotiations are at an advanced stage, according to Ms. Mashfee Binte Shams, Secretary (East), Ministry of Foreign Affairs, Government of Bangladesh.
Mr. Momen also placed emphasis on the need for regular commercial shipping lines and cruise shipping to increase trade and people-to-people contacts.
Mr. Peiris agreed on the need to better utilize Colombo port for transport of goods from Bangladesh.
Related link
Bangladesh, Sri Lanka for early conclusion of PTA to boost trade