SASEC Assists Bangladesh Strengthen Infrastructure Development
12 October 2014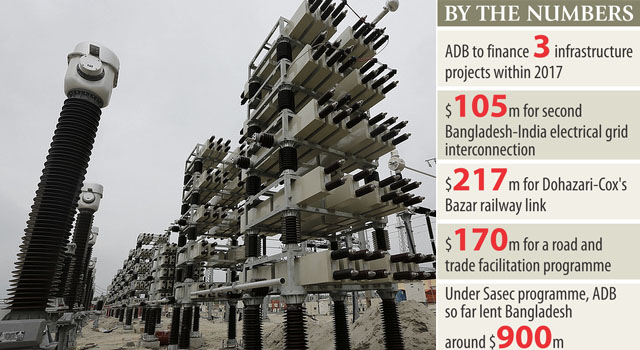 The Asian Development Bank's (ADB) South Asia Subregional Economic Cooperation (SASEC) Program will finance key infrastructure projects worth $492 million under its country operations business plan: the second Bangladesh-India electrical grid interconnection ($105 million), Dohazari-Cox's Bazar railway link ($217 million), and road and trade facilitation ($170 million). It will create mutually beneficial trade among six countries – Bangladesh, Bhutan, India, the Maldives, Nepal, and Sri Lanka – and promote regional prosperity by improving cross-border connectivity, creating access to regional markets, and strengthening regional cooperation.
ADB plans to lend $3-$4 billion to SASEC countries in the next three years, according to Ronald Antonio Q. Butiong, Principal Regional Cooperation Specialist at ADB. He further added that focus would be on regional grid interconnectivity. Bangladesh is currently importing 500 megawatts (MW) of electricity from India through grid interconnectivity and plans to import 3,500 MW from SAARC countries by 2030. Electricity is seen as a key element to enhance economic growth and boost power trade among neighboring countries.
In its capacity as SASEC Secretariat, ADB helped fund $40 million to develop electrical interconnection between Bheramara in Bangladesh and Baharampur in India. Since 2001,ADB has financed nine projects in transport, trade facilitation, energy, and information and technology worth about $900 million in Bangladesh under SASEC.
Related Link: