SASEC Bypass Road in Phuentsholing, Bhutan, Reduces Traffic Congestion
15 February 2022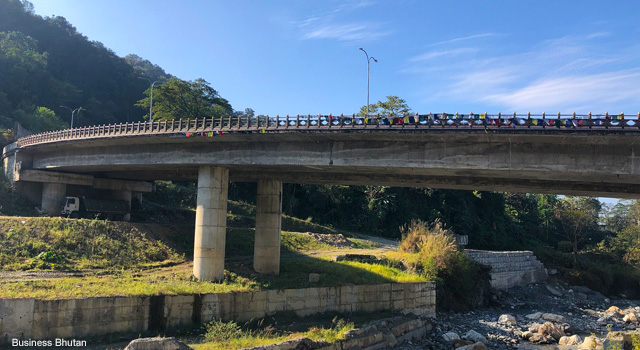 The Northern Bypass Road (NBR) has reduced traffic congestion in Phuentsholing, Bhutan, according to Mr. Devi Charan Dhimal, project coordinator, Asian Development Bank (ADB). The NBR, constructed under the South Asia Subregional Economic Cooperation (SASEC) program, is a 2-kilometer four-lane road that includes an underpass near the Omchhu bridge.
NBR Package-I was completed in January 2022 and is now being used by light and heavy vehicles. With heavy vehicle traffic diverted to the road, traffic congestion in Phuentsholing has been significantly reduced. NBR-I includes a footpath, streetlights, and a utility duct for telecom and power cables. ADB and the Royal Government of Bhutan have jointly invested BTN198 million (approximately $2.59 million) in the road construction project.
A mini dry port, constructed under SASEC, connects to NBR-I. It also helps ease traffic congestion by accommodating trucks and trailers that need to undergo customs clearing works, previously done at the customs office in Phuentsholing.
Sonam, a resident of Phuentsholing said it is good to see such projects in Phuentsholing. "Phuentsholing should be attractive in many ways because it is the town that welcomes visitors," he said.
NBR Package-II, which is also a SASEC project, began construction on 15 February 2022. It will connect to NBR Package-I and will allow heavy vehicles to reach Thimphu and Pasakha industrial estate without having to pass through Phuentsholing. It is a four-lane road that includes a four-lane prestressed girder bridge. The project will complete bridge concreting in May and will be fully completed in October. Project cost is estimated at BTN246 million (approximately $3.22 million).
Related Link