SASEC Mini-dry Port in Phuentsholing, Bhutan, Completed
14 February 2022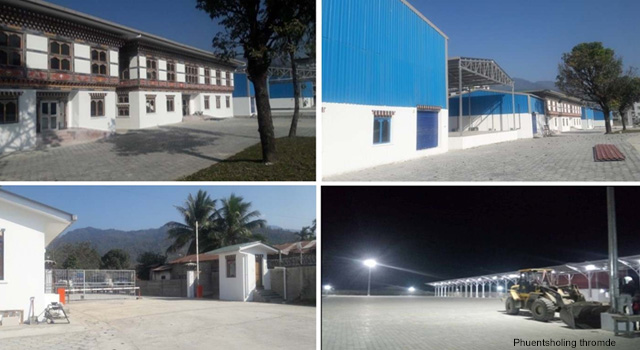 Phuentsholing thromde (administration) has completed construction on Bhutan's first mini dry port. Construction began in April 2017. The project is part of a road connectivity under the South Asian Subregional Economic Cooperation (SASEC) program.
The mini dry port occupies 5.4 acres of land (approximately 2.18 hectares) and is connected to the SASEC North Bypass Road project. The port can process customs clearances for imports and exports and is capable of housing 45 trucks. It will help decongest Phuentsholing, a major commercial hub, by allowing heavy trucks to bypass the town's existing customs office.
"The primary objective is to decongest the central business district," said Mr. Devi Charan Dhimal, project coordinator, Asian Development Bank (ADB). "Heavy trucks ferrying goods from India to Bhutan would not need to go to the existing customs office, which would mean less congestion."
The mini dry port improves trade by providing one-window services and facilitating efficient tax collection, said Mr. Dhimal. Port facilities include cold storage, a weigh bridge, a covered transshipment shed, separate storage for risky goods, storage for seized goods and seized containers, a transshipment shed for container goods, an export warehouse, a shed for drivers, and public toilets. The project cost an estimated BTN134.85 million (approximately $1.75 million) through a grant from ADB and cofunding from the Bhutan government.
Dry port operations have been turned over to the department of trade with the economic affairs ministry.
The mini dry port is one of the components of the SASEC North Bypass Road project, which also includes development of a 2.7-kilometer four-lane road and construction of 120-meter curvy-linear bridge over the upstream of Omchhu River. Another component is the planned construction of a land customs station at Allay in Pasakha.
Related Link