Cargo Ship Sails from Bihar to Assam via Bangladesh
5 February 2022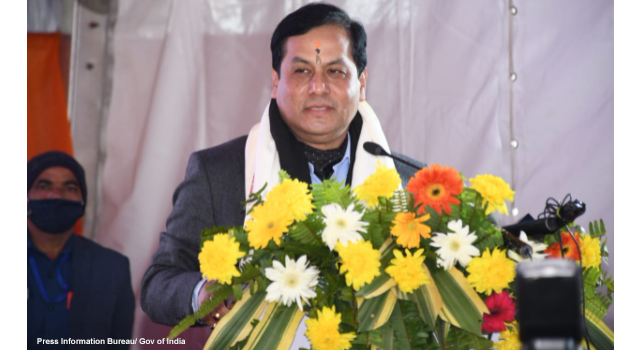 India flagged off a pilot run of a cargo ship using waterways from Patna Port in Bihar, India, for the Pandu Port in Assam, India, via the Jamuna River,Bangladesh, on 5 February 2022. This 2,350 kilometer route that will be traveled by the carrier MV Lal Bahadur Shastri commenced from India's western part to its northeastern region, passing through Bangladesh, under the Bangladesh-India Protocol for Inland Water Trade and Transit. Mr. Sarbananda Sonowal, Minister of Shipping of the Government of India, and Mr. Piyush Goyal, Minister of Commerce and Industry, Consumer Affairs, and Food and Public Distribution and Textiles of the Government of India, jointly launched the river carrier.
The pilot run aims to establish the technical and commercial viability of this mode of transport that uses multiple river routes of Ganges and Brahmaptura in India, and Jamuna River in Bangladesh, according to the Inland Waterways Authority of India.
Onboard the vessel was 200 metric tonnes of food grains. The journey was set for 25 to 30 days. The route includes National Waterway-1 through Bhagalpur, Manihari, Sahibganj, Farakka, Tribeni, Kolkata, Haldia, and Hemnagar; Indo-Bangladesh Protocol route through Khulna, Narayanganj, Sirajganj, and Chilmari; and National Waterway-2 through Dhubri and Jogighopa.
Mr. Sonowal noted that the project exemplifies India Prime Minister Narendra Modi's national master plan that aims to create seamless multimodal connectivity for movement of people and cargo, with a focus on removing barriers to last-mile connectivity.
Mr. Khalid Mahmud Chowdhury, State Minister of the Government of Bangladesh, joined the ceremony virtually. He underscored that transfer of goods from Bangladesh to Bhutan and Nepal, through India, can help boost growth in national, regional, and global economies.
Related
Cargo ship sails from Patna to Pandu heralding a new age of logistics for Assam
Movement of grains on vessels from Patna to Guwahati to open new route in eastern, NE India: Goyal