India Central Board of Indirect Taxes and Customs Highlights Leveraging Technology for Trade Facilitation
27 January 2022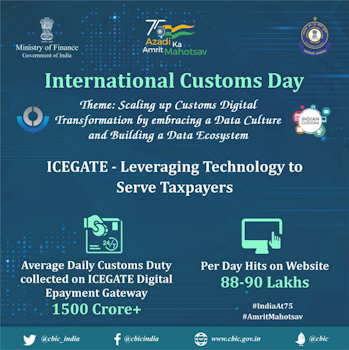 On International Customs Day, the Central Board of Indirect Taxes and Customs (CBIC) of the Government of India highlighted how Indian Customs is leveraging technology for trade facilitation by embracing a data culture and building a data ecosystem—also the theme set by the World Customs Organization. In a series of posts on its Twitter page, the CBIC highlighted how the Turant Customs program enables Single Window Interface for Facilitating Trade (SWIFT); e- Sanchit (e-Storage and Computerized Handling of Indirect Tax Documents) for paperless processing, uploading of supporting documents, to facilitate the trading across borders; the Turant Suvidha Kendra (TSK), the customs locations for trade facilitation and query handling, full automation for documents such as Bill of Entry, and e-Gatepass; and ICEGATE electronic gateway for taxpayers. The CBIC also held interactive sessions among stakeholders who are integral to customs work and engaged with private stakeholders to seek their inputs.
Ms. Nirmala Sitharaman, Minister for Finance and Corporate Affairs of the Government of India, recognized CBIC's focus on building a digital culture and enacting rapid digital transformation. She urged them to continue further. She also expressed appreciation for the CBIC for ensuring supply chain security amid the COVID-19 Pandemic.
The WCO is encouraging customs bureaus globally this year to implement the theme of embracing a data culture and building a data ecosystem, and examine how to best operate in a fully digital environment and create an operating model that captures and exploits data from across the trade ecosystem.
Related links