India, Sri Lanka Underscore Beneficial Close Relations
15 January 2022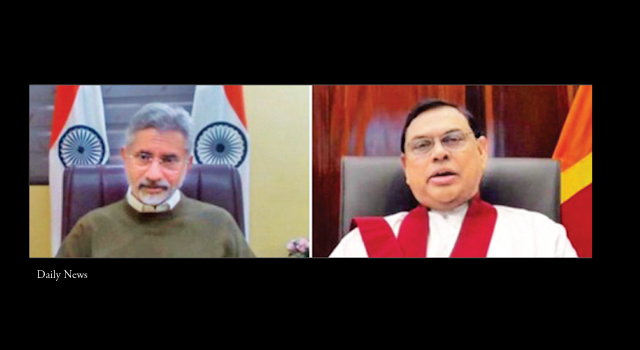 Mr. S. Jaishankar, External Affairs Minister of the Government of India, held a virtual meeting with Mr. Basil Rajapaksa, Finance Minister of the Government of Sri Lanka on 15 January 2022. Mr. Rajapaksa was in India for an official visit in December 2021.
During the meeting, Mr. Jaishankar reiterated India's continued support for Sri Lanka, including helping the country overcome economic and other challenges caused by the COVID-19 pandemic. He also emphasized that as close friends and maritime neighbors, they stand to gain from forming closer economic interlinkages.
Mr. Rajapaksa expressed deep appreciation for India's support, and welcomed Indian investments in Sri Lanka in sectors including ports, infrastructure, energy, renewable energy, and manufacturing. He ensured the External Affairs Minister that Sri Lanka will create a conducive business environment to encourage investments from India. They noted recent steps taken to jointly modernize the Trincomalee Oil Tank Farms, which is foreseen to raise investor's confidence and enhance Sri Lanka's energy security.
They also noted India's extension of $400 million to Sri Lanka under the South Asian Association for Regional Cooperation (SAARC) currency swap arrangement, as well as progress in the credit facility of $1 billion India allocated for Sri Lanka for the purpose of importing food, essential items, and medicine, and another $500 million to import fuel from India.
The two Ministers agreed to remain in touch to provide guidance in building a mutually beneficial bilateral economic cooperation toward long-term economic partnership for shared progress and prosperity.
Related news
Jaishankar, Basil Rajapaksa discuss energy projects, credit lines