High Commissioner of India to Maldives Calls On Maldives' Minister of Foreign Affairs
11 January 2022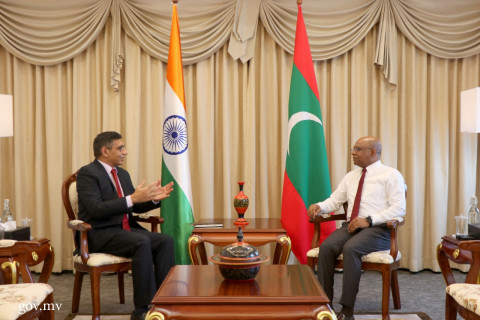 Mr. Munu Mahawar, High Commissioner of India to Maldives, paid a courtesy call to Mr. Abdulla Shahid, Minister of Foreign Affairs of the Government of Maldives. Minister Shahid congratulated and welcomed Mr. Mahawar. They exchanged views on further elevating the longstanding relations of both countries. They also reviewed the ongoing developmental projects being implemented with the support of the Government of India and other cooperation program between India and Maldives.
Minister Shahid expressed profound gratitude to the Government of India for the generous assistance it provided during the challenging times of COVID-19 pandemic. He noted that Maldives can always rely on India in times of need.
High Commissioner Mahawar thanked him for the warm welcome, and assured him of his strong commitment to work closely with the Government of Maldives in further strengthening the close ties between the two countries.
Related