Bangladesh and Maldives Hold First Bilateral Consultation, Agree to Promote Maritime Connectivity
27 November 2021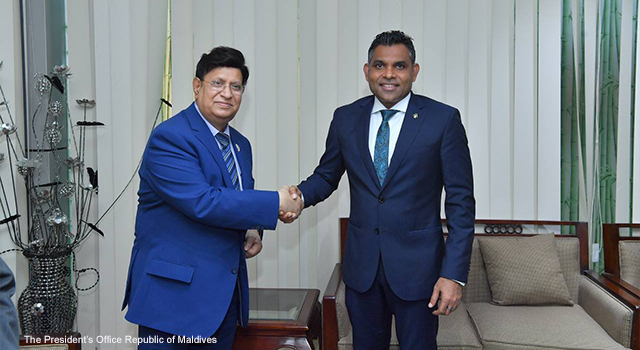 The first bilateral consultation between Bangladesh and Maldives was held on 27 November 2021 led by Mr. Masud Bin Momen, Foreign Secretary of the Government of Bangladesh, and Mr. Abdul Ghafoor, Foreign Secretary of the Government of Maldives.
Outcomes of the meeting include:
Acknowledgment of the excellent relations between the two countries. The two excellencies committed to further strengthen bilateral ties.
Discussion of cooperation between the two countries, with emphasis on deepening linkages by concluding several bilateral instruments, including agreements on trade and connectivity, and tourism for enhancing people to people to contact.
Maldives also expressed gratitude to Bangladesh for extending support to Maldives amid the COVID-19 pandemic. Furthermore, it sought support from Bangladesh for the recruitment of skilled workers and professionals.
Meeting between Bangladesh Foreign Minister and Maldives Vice President
The Vice President of Maldives Faisal Naseem paid a state visit to Dhaka, Bangladesh, on 22-24 November. In his meeting with Mr. AK Abdul Momen, Foreign Minister of the Government Bangladesh, it was agreed that Bangladesh and Maldives will establish a direct shipping line via Chattogram (Chittagong) to boost their connectivity and bilateral trade.
Bangladesh Prime Minister Sheikh Hasina will be travelling to Maldives for a state visit on 22-23 December 2021.
Related
Bangladesh, Maldives hold first bilateral consultations
Vice President concludes official visit to Bangladesh
Prime Minister of Bangladesh to undertake State Visit to Maldives
Bangladeshi Foreign Secretary pays courtesy call on Vice President
Maritime connectivity: Maldives to establish direct shipping line with Chittagong