Jaynagar-Kurtha Cross-border Rail Link Converted to Broad Gauge
23 October 2021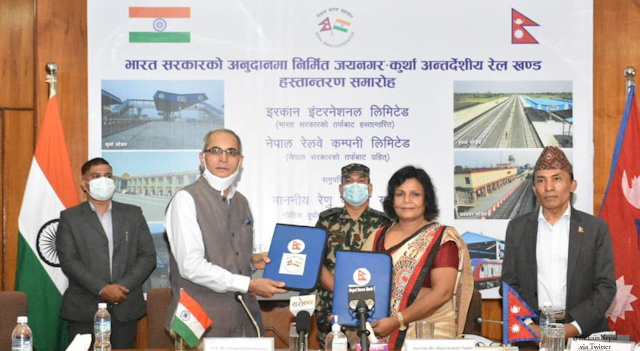 The Government of India financed the gauge conversion of the Jaynagar (India)-Kurtha (Nepal) cross-border rail link from narrow gauge to broad gauge. On 23 October 2021, India handed over the completed section totaling 34.9 kilometer to Nepal. Mr. Vinay Mohan Kwatra, Ambassador of India to Nepal, and Mr. Renu Kumari Yadav, Minister for Physical Infrastructure and Transport of the Government of Nepal, witnessed the occasion.
Earlier in October, India and Nepal signed the Standard Operating Procedures (SOPs) for passenger train services on this section during a bilateral meeting which reviewed implementation of ongoing cross-border railway links and overall bilateral cooperation in the railway sector. The SOPs indicate the technical aspects of running passenger trains on this new section and serves as a guiding document for cross-border rail services between India and Nepal.
India is financing conversion of the 68.72 km Jaynagar-Bijalpura-Bardibas rail link with Rs 8.77 billion (around $118 million) grant assistance. This project is set to be the first broad gauge cross-border rail link between India and Nepal. Nepal also committed to provide necessary facilitation to complete work on the 17.25 km Kurtha-Bilajpura section of the railway line at the earliest.
The two Governments are also completing works on the Jogbani (India)-Biratnagar (Nepal) broad gauge railway line and are in talks on the proposed Raxaul (India)-Kathmandu (Nepal) broad gauge railway line.
Related:
Jaynagar-Kurtha cross-border rail section handed over to Nepal