Asia-Pacific Trade Facilitation Forum 2014 focuses on Trade Facilitation for Inclusive Development
25 September 2014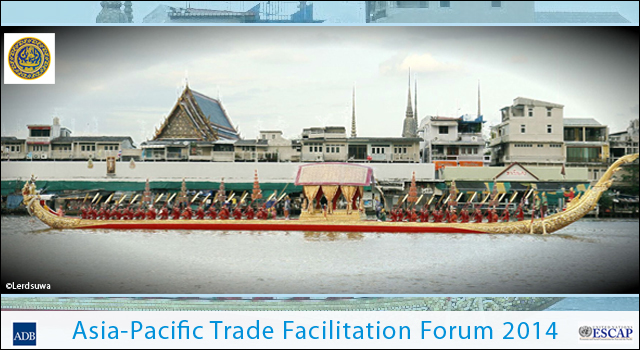 The Asian Development Bank (ADB), United Nations Economic and Social Commission for Asia and the Pacific (UNESCAP), in collaboration with the Ministry of Commerce of Thailand, jointly organized the 6th Asia-Pacific Trade Facilitation Forum (APTFF)—an annual regional platform—on September 24-25, 2014. Over 200 delegates from governments across Asia Pacific, the private sector, scholars and researchers from universities and think-tanks, and experts from international organizations joined the knowledge and experience-sharing forum, which aimed to inspire trade facilitation reform.
Under the theme "Trade Facilitation for Inclusive Development," this year's program included a high-level panel discussion and five thematic sessions on performance monitoring, agricultural trade, small and medium enterprises (SMEs), interagency coordination, and the World Trade Organization's Trade Facilitation Agreement (WTO TFA).
In his opening speech, Mr. Arjun Goswami, Director, Office of Regional Economic Integration, ADB emphasized that trade facilitation reforms are imperative in expanding the scope of those who gain from trade-led economic growth. Removal of barriers to trade and creation of necessary reforms could encourage export participation among SMEs in Asia, which account for over 90% of all businesses in the region, yet whose participation in trade exports counts for only about 30%. Mr. Goswami also stressed the importance of monitoring trade facilitation performance, cooperation and collaboration across borders, and the need to enhance capacity in facilitating trade on a global scale through the WTO TFA.
Side events focusing on trade facilitation implementation were also held from September 23-27 in conjunction with the Forum. UNESCAP, in partnership with ADB, organized a capacity-building workshop on September 26, 2014, focusing on designing and implement trade facilitation measures on perishable goods and national single window.
Related Links: