Completion of Akhaura-Laksam Railway Section to Save Travel Time
25 September 2021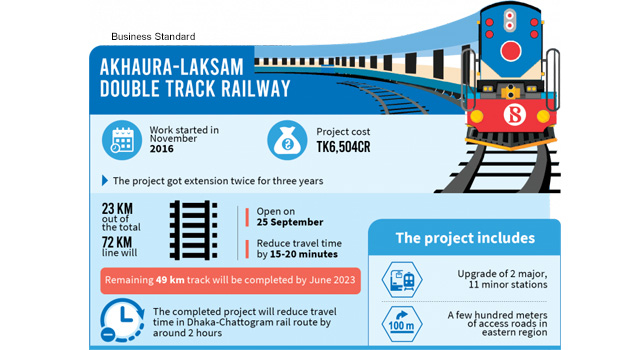 A 23-kilometer (km) double railway track from Cumilla to Laksam has been completed and is projected to save travel time, said Mr. Md. Shahidul Islam, project director. Through the project, the 15 to 20 minutes a train uses to let another pass will be saved. Bangladesh Railway is set to open the line on 25 September 2021.
The line is part of the 72-km Akhaura-Laksam double line. The conversion of the existing 49-km double rail line into dual guage will be completed by June 2023. The entirety of the 321-km Dhaka-Chattogram rail route will be a double-line track upon completion of the Akhaura-Laksam project.
Completion of the project will reduce travel time on the Dhaka-Chattogram rail route from six hours to four hours and increase the railway's capacity to carry passengers and cargo. The railway will be able to increase the number trains it operates on the route from 23 pairs to 72 pairs of passenger and goods trains.
The project will also upgrade two major and 11 minor stations. A few hundred meters of access roads will also be constructed. 
The Akhaura-Laksam Double Line Project was approved in 2014. The deadline for the completion of the project was extended after the coronavirus pandemic caused delays in the construction. The Dhaka-Chattogram railway corridor is a component of the Trans-Asian Railway Network, and the South Asia Subregional Economic Cooperation, South Asian Association for Regional Cooperation, and Bay of Bengal Initiative for Multi-Sectoral Technical and Economic Cooperation corridors in Bangladesh.
Related Link: