New ICP Petrapole Passenger Terminal Building to Boost India-Bangladesh Connectivity
17 September 2021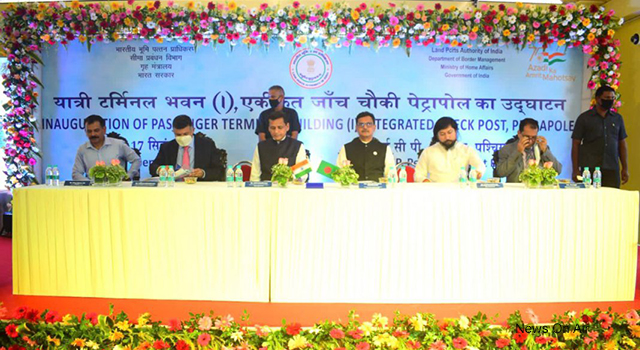 The Ministries of Home Affairs and Cooperation of the Government of India inaugurated the Passenger Terminal Building I at ICP Petrapole on 17 September. ICP Petrapole is the largest land port in South Asia and the most important port of entry for passengers from Bangladesh. It handles about 2.3 million (23 lakh) passengers annually.
Modernization of ICP Petrapole's passenger terminal building is in line with the Government of India's aim to boost its border infrastructure and further strengthen its connectivity with Bangladesh. Officials from the Government of India and Government of Bangladesh were present at the inauguration. A foundation stone for a common second cargo gate along the India-Bangladesh border was also laid.
The Land Ports Authority of India constructed the new passenger terminal building over an area of 1,305 square meters. It can accommodate around 550 passengers at a time, and is equipped with facilities such as Immigration, Customs, and Security, as well as 32 immigration counters, 4 customs counters, 8 security counters, and adequate office spaces for stakeholders, to promote the smooth and comfortable movement of passengers.
The Land Ports Authority is also constructing a new state-of-the-art Passenger Terminal Building II at ICP Petrapole. This new building has a capacity of around half a million. Construction work started in February 2020 and is expected to be completed by end of 2022.
Related link:
New Passenger Terminal Building Inaugurated at Petrapole between India and Bangladesh