ADB Approves $1.78 Billion for SASEC Dhaka-Sylhet Corridor to Improve Transport and Regional Trade in Bangladesh
27 August 2021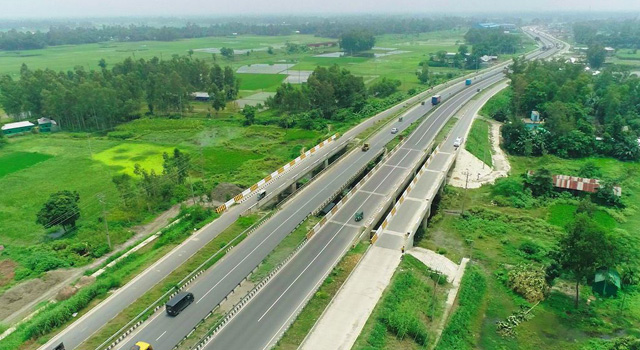 The Asian Development Bank (ADB) approved on 27 August 2021 a $1.78 billion multitranche financing facility (MFF) to improve regional trade along the Dhaka–Sylhet trade corridor in Bangladesh. The project, under the South Asia Subregional Economic Cooperation (SASEC) program, will support trade by helping connect Chattogram (Chittagong) Port with India's northeastern states through Akhaura, Sheola, and Tamabil land ports, and with Bhutan and Myanmar.
The Dhaka–Sylhet corridor is the main segment of SASEC Corridor 5 and is part of a planned Northeast Bangladesh Economic Corridor. It will help promote key industries such as energy generation and production of construction materials, according to Ms. Satomi Sakaguchi, ADB Transport Specialist for South Asia. She said improving the Dhaka–Sylhet corridor will reduce logistics costs, increase competitiveness, and help expand regional trade with neighboring South Asian countries, as well as provide safe access to members of the community.
The first tranche of the loan will finance the widening from two to four lanes of about 210 kilometers (km) of National Highway 2 along the Dhaka–Sylhet corridor. The project also includes a 60-km footpath, 26 footbridges, and 13 overpasses, and is designed to be responsive to the needs of the elderly, women, children, and the differently abled, as well as disaster and climate risks.
The SASEC Dhaka–Sylhet Corridor Road Investment Project is included in the SASEC Operational Plan 2016–2025 Update. It will link Bangladesh's road transport network with the Asian highway network, the Bay of Bengal Initiative for Multi-Sectoral Technical and Economic Cooperation corridor, and the South Asian Association for Regional Cooperation corridor.
Related Links: