Prime Minister Modi Affirms SAARC as a Strong Regional Block
28 September 2014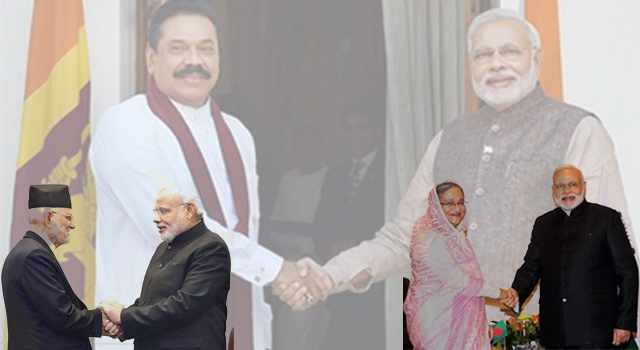 Indian Prime Minister Narendra Modi held separate bilateral meetings with Sri Lanka President Mahinda Rajapaksa, Bangladesh Prime Minister Sheikh Hasina, and Nepal Prime Minister Sushil Koirala. The neighboring leaders discussed their support for the 'neighborhood first' policy and affirmed their commitment to South Asian Association for Regional Cooperation (SAARC) as a regional block that can solve common problems. Modi also inquired about the status of bilateral projects in Nepal with Koirala, and discussed various bilateral issues with Rajapaksa, including a power project.
India's South Asian neighbors congratulated Modi on his 35-minute speech at the UN General Assembly which called for genuine international partnership that allows countries to accommodate each other's concerns and interests in crafting international trade agreements.
He further stressed that "national action is imperative" and India is prepared to share its technology and capabilities by tasking Indian space agency – Indian Space Research Organization – to develop a free SAARC satellite that will help nations fight poverty and illiteracy. This satellite will also open up avenues for scientific progress, along with opportunities for SAARC youth. 
During SAARC Home Minister's conference in Kathmandu, Home Minister Rajnath Singh stressed India's commitment to reviving SAARC as a major forum to promote active regional collaboration. It wants to maintain cordial relations with its neighbors founded on the ideology of 'vasudhaiva kutumbakam' (the whole world is one family). SAARC comprises Afghanistan, Bangladesh, Bhutan, India, the Maldives, Sri Lanka, Pakistan, and Nepal. 
Related Links: