Bangladesh and Sri Lanka to Begin Negotiations to Sign a Preferential Trade Agreement
16 June 2021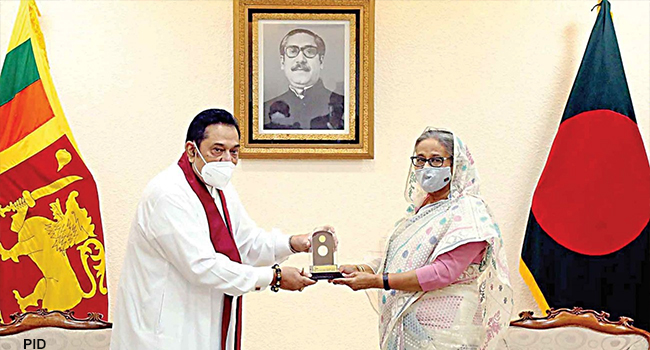 The Government of Bangladesh plans to begin negotiations with Sri Lanka to sign a preferential trade agreement (PTA) by July. Both countries aim to increase their bilateral trade volume.
A trade negotiation committee has been formed for the next steps, reported the Financial Express. On 16 June, it was reported that Sri Lanka's Cabinet of Ministers also gave approval to commence discussions toward finalizing the PTA with Bangladesh.
In a March 2021 meeting, Sri Lanka Prime Minister Mahinda Rajapaksa and Bangladesh Prime Minister Sheikh Hasina underlined the need for greater bilateral trade. They agreed to work on a bilateral PTA beginning with a short list of products that could promote expanded trade.
Signing PTAs and free trade agreements will support Bangladesh in addressing the challenges of graduating from the least developed country category. Bangladesh signed its first PTA with Bhutan on 6 December 2020.
Bangladesh appointed its Additional Secretary from the Ministry of Commerce as the chief negotiator. The committee from Bangladesh will comprise twelve members, including representatives from the Ministry of Foreign Affairs, Ministry of Industry, National Board of Revenue, Export Promotion Bureau, Bangladesh Trade and Tariff Commission, and Bangladesh High Commission in Colombo, Sri Lanka. They will work in coordination with officials and negotiators appointed by the Government of Sri Lanka.
Sri Lanka's proposed PTA with Bangladesh will be their third trade agreement with a country from South Asia. Trade agreements have helped enhance Sri Lanka's bilateral trade with India and Pakistan.
Bangladesh and Sri Lanka are both member countries of the SAARC Preferential Trading Arrangement (SAPTA), South Asian Free Trade Area (SAFTA), Global System of trade Preference (GSTP), Asia-Pacific Trade Agreement (APTA), Bay of Bengal Initiative for Multi-Sectoral Technical and Economic Cooperation (BIMSTEC), and the SASEC program.
Related links
Dhaka to start negotiations with Colombo to sign PTA
Cabinet nod to start talks on preferential trade deal with Bangladesh