Foreign Ministers of India and Maldives Review Bilateral Cooperation
16 April 2021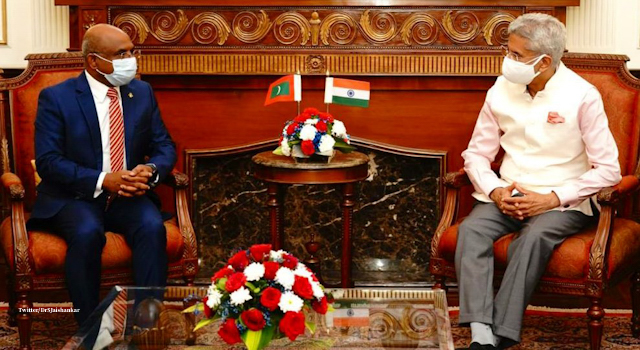 Mr. Abdulla Shahid, Foreign Minister of the Government of Maldives, met with Mr. S Jaishankar, Foreign Minister of the Government of India, on 16 April 2021, as part of his two-day visit to India. The two foreign ministers reviewed the status of ongoing projects in Maldives backed by India. India supports around $2 billion worth of projects in Maldives, including ports, roads, bridges, water and sanitation, and socio-economic development projects.
Mr. Shahid reiterated Maldives' request for India to renew the notifications from the Directorate General of Foreign Trade concerning supply of essential commodities to Maldives from India under their bilateral trade agreement. He received assurance from Mr. Jaishankar that India will honor its commitment.
Mr. Shahid also expressed gratitude for India's supply of vaccines against the coronavirus disease (COVID-19). India's vaccine support has helped Maldives' tourism industry recover, shared the minister. The meeting also noted the growing number of Indian tourists visiting Maldives.
The two foreign ministers reviewed all issues of mutual interest in the bilateral, regional, and international context.
Related links:
S Jaishankar holds talks with Maldivian foreign minister
Maldives Foreign Minister Abdulla Shahid meets External Affairs Minister S Jaishankar; discusses SAARC, OIC