Webinar Highlights Economic Potential of Bangladesh-India River Tourism
29 April 2021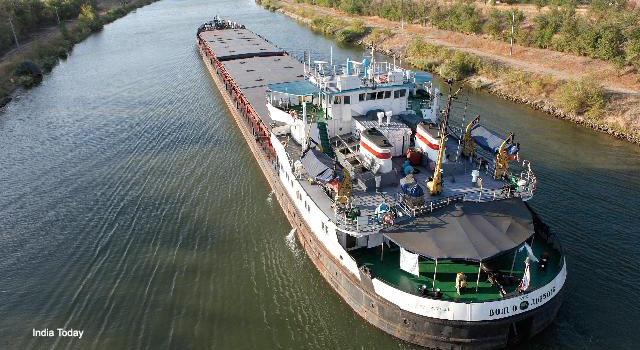 Experts discussed unique opportunities in river tourism between Bangladesh and India at a public-private dialogue on India-Bangladesh cross-border tourism and cruise operations organized by CUTS International on 29 April 2021. Mr. Bipul Chatterjee, Executive Director, CUTS International, shared that cross-border tourism and trade through trans-boundary rivers between Bangladesh and India is set to play a significant role in the socio-economic development of local communities and environmental and cultural preservation in the two countries.
Ms. Amita Prasad, Chairperson, Inland Waterways Authority of India, Ministry of Ports, Shipping and Waterways, Government of India, discussed how India is being developed as a cruise shipping destination under the Maritime India Vision 2030. Places attractive to tourists will be linked along the banks of the Ganges, the Brahmaputra, and other important rivers shared by the two countries through the India-Bangladesh Protocol Routes.
Mr. Taufiq Rahman, Chief Executive, Journey Plus, Bangladesh, notes that the solution for the survival of tourism heavily affected by the pandemic is regional, small haul, and cross-border tourism.
Mr. Golam Sadeq, Chairperson, Bangladesh Inland Water Transport Authority, shared that regulatory issues are being resolved. He called on the private sector to start marketing once the COVID-19 crisis is under control.
Mr. Raj Singh, Director, M/S Heritage River Cruises Pvt. Ltd. highlighted how river tourism could offer opportunities for local communities. River tourism can show tourists places that are not easily accessible by road. Folk dancers and artisans could participate in river tourism tours. He also discussed sustainability of river cruise tourism, and encouraged the use of modern jetties, sustainable and technologically advanced ships, noise-free silencers, oil separators and pollution-free shores.
Mr. Biswajit Chakrabarty, Director, Northeast Advisory Council, Federation of Indian Chambers of Commerce and Industry, proposed that many smaller trans-boundary rivers may be offered to domestic tourists. He suggested tapping the private sector in developing port facilities, and increasing funding for the development of the tourism sector and river cruise operations.
Mr. Enamul Mazid Khan Siddique, Head of Climate Justice and Natural Resource Rights, Oxfam Bangladesh, spoke about the importance of multi-stakeholder partnership in strengthening cross-border tourism between India and Bangladesh through trans-boundary rivers. He stressed the need to include grassroot communities and local tribes in the discussion so that they can also provide services while upholding their rights. This kind of collaboration can aid in the preservation of nature, culture and heritage in both countries.
The dialogue is organized as part of a regional program on transboundary rivers of South Asia (TROSA), which is supported by the Swedish International Development Agency, managed by Oxfam Novib, and implemented by CUTS International.
Related link:
Cross-border river cruise tourism between India and Bangladesh a key to enhance bilateral economic cooperation: Experts at a CUTS Webinar