Trade Facilitation Mobile App Launched in India
12 April 2021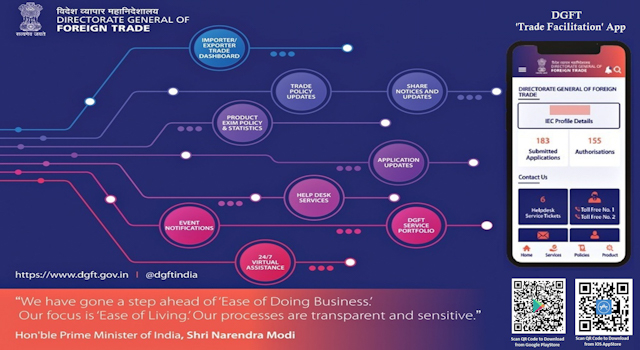 The Ministry of Commerce and Industry of the Government of India has launched a Directorate General of Foreign Trade (DGFT) Trade Facilitation Mobile App. India aims to move toward paperless, automated processing systems, simple procedures, online data exchange between departments, and digital payments and acknowledgements.
In a post-Covid world, tech-enabled governance will play a key role in determining India's growth and competitiveness, shared Mr. Piyush Goyal, Minister of Commerce and Industry of the Government of India. He underscored the Trade facilitation App's readiness for Industry 4.0—the ongoing automation of traditional manufacturing and industrial practices, using modern smart technology. The app promotes ease of doing business by offering easy access to trade related processes and inquiries and real-time trade policy updates and notifications. Furthermore, the app will reduce transaction cost and time for imports and exports related processes, and usher in transparency.
The DGFT Twitter page enumerates the following features of the app:
Real-time trade policy updates and event notifications
Access to the firm's trade dashboard anytime anywhere
Access to DGFT services
Item-wise export-import policy and statistics
24x7 virtual assistance for trade related queries
Tracking firm's portfolio – IEC, applications, authorizations
Real-time alerts on status of applications
Raise and track help requests in real-time
Share trade notices, public notices easily
The app is available on both Android and iOS platforms.
Related links:
DGFT's 'Trade Facilitation' mobile app to promote exports
India launches trade facilitation app for ease of doing business