Bangladesh and India Reiterate Strengthening Trade, Energy Cooperation, and Connectivity for Bilateral, Subregional Benefit
27 March 2021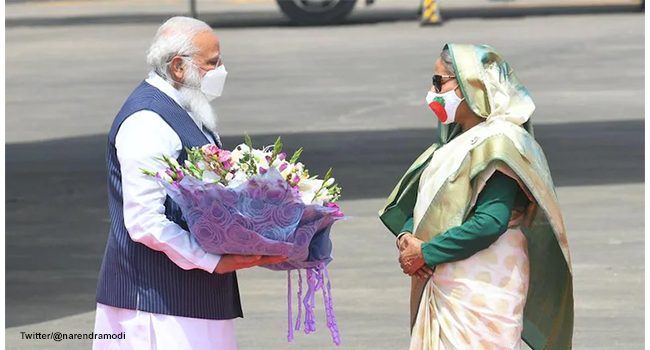 India Prime Minister Narendra Modi paid a state visit to Bangladesh on 26-27 March 2021 to join celebrations for the golden jubilee of Bangladesh's independence and the birth centenary of Bangabandhu Sheikh Mujibur Rahman. Bangladesh and India are also commemorating 50 years since the establishment of their diplomatic relations. The Joint Statement issued by the two nations underscored that Prime Minister Modi's visit "symbolized the partnership of half-a-century between India and Bangladesh that has strengthened, matured and evolved as a model for bilateral relations for the entire region."
Prime Minister Modi held discussions with Bangladesh Prime Minister Sheikh Hasina on 27 March 2021, followed by delegation level discussions. He also called on Bangladesh President Md. Abdul Hamid on 27 March 2021 and met with Bangladesh Foreign Minister Dr. A.K. Abdul Momen on 26 March 2021.
The bilateral discussions between Prime Minister Hasina and Prime Minister Modi underscored needed initiatives to enhance trade, deepen partnership and cooperation in power and energy, and increase connectivity.
In their discussions to enhance trade, these key points were included:
Bangladesh and India emphasized the need for removal of nontariff barriers and increased predictability of trade policies, regulations and procedures. They discussed India's new policy on verification of certificates of origin issued from Bangladesh, with India clarifying provisions stated under the new Customs rules.
They stressed the urgent need to upgrade the infrastructure and facilities of the Land Customs Stations (LCSs) and Land Ports in a coordinated manner to facilitate trade.
India reiterated a request for at least one major land port without port restrictions or with a negative list of restrictions on the border between Bangladesh and its northeastern region to promote easier market access, starting with the Agartala-Akhaura integrated check post.
They also agreed to collaborate on capacity building and development of testing and lab facilities between Bangladesh Standards and Testing Institute (BSTI) and the Bureau of Indian Standards (BIS) to promote harmonization of standards and mutual recognition of agreements and certificates.
Bangladesh and India underscored the need for a speedy conclusion of the ongoing joint study on the prospects of entering into a Comprehensive Economic Partnership Agreement (CEPA).
They also welcomed the opening of new border haats at agreed locations and hoped that these would be mutually beneficial for the economic development of the people living along remote and inaccessible points of the border of both countries.
In discussions to deepen their partnership and cooperation in power and energy, Bangladesh and India underscored boosting subregional cooperation in energy with Bhutan and Nepal. India emphasized that finalization of regulations and guidelines for cross-border trade in electricity would increase subregional cooperation. India requested early finalization of modalities for implementation of the Katihar – Parbotipur – Bornagar cross border electricity interconnection. A study team will be established to move this initiative forward. They took stock of progress in the implementation of the India-Bangladesh Friendship Pipeline and unit-1 of the Maitree Super Thermal Power Project and expressed hope that these projects would get commissioned soon. They also noted the first meeting of the High-Level Monitoring Committee and tasked the Committee to provide recommendations for the speedy execution of projects under the Lines of Credit.
In discussions to further connectivity, Bangladesh and India highlighted the importance of enhanced connectivity to facilitate regional economic integration. They made the following key points:
India expressed gratitude for Prime Minister Hasina's initiative of revitalizing the pre-1965 rail connectivity, and for Bangladesh's support in the multimodal connectivity initiatives involving rail, road, and waterways.
Bangladesh expressed interest in becoming a partner in the India-Myanmar-Thailand trilateral highway project.
Both countries agreed to an early operationalization of the Bangladesh-Bhutan-India-Nepal (BBIN) Motor Vehicles Agreement through the signing of the Enabling MoU for Bangladesh, India, and Nepal to commence the movement of goods and passengers at the soonest possible time. It will have a provision for Bhutan to join at a later date. This will facilitate better connectivity in the subregion and simplify movement of passengers and goods.
Bangladesh requested India for consideration of their newly proposed connectivity routes: additional land ports of Bhadrapur-Bairagi Galgalia, Biratnagar-Jogmani and Birganj-Raxaul to be connected with Banglabandha-Fulbari and Birol-Radhikapur by road as alternative routes; Birol-Radhikapur and Rohanpur-Singhabad rail interchanges to be connected with Biratnagar-Jogmani to help reduce the distance and cost of transportation of goods by rail from Bangladesh to Nepal; and rail connectivity with Bhutan through the newly-inaugurated Chilahati-Haldibari route.
India requested Bangladesh for cooperation in establishing connectivity between Guwahati and Chattogram, and also from Mahendraganj in Meghalaya to Hili in West Bengal. Bangladesh requested India for a detailed proposal in this regard.
They highlighted the benefits of connectivity and noted the trial run of transshipment of Indian goods from Kolkata to Agartala via Chattogram. India requested for the early operationalization of the Agreement on the use of Chattogram and Mongla Ports for the movement of goods to and from India, including finalization of cost-effective pricing and regulatory orders.
India requested for transshipment arrangement in Munshiganj and Pangaon as part of the Protocol on Inland Water Transit and Trade until the completion of the Ashuganj Container Terminal. Bangladesh discussed infrastructure limitations and informed India that work is being planned to upgrade the facilities.
Prime Minister Modi recalled the recent inauguration of the Friendship Bridge ("Maitree Setu") over Feni river. He expressed appreciation for Bangladesh's support in materializing this crucial connectivity project. Bangladesh Prime Minister stated that the inauguration of the Feni bridge is a testament to the Government of Bangladesh's continued commitment to support initiatives to strengthen connectivity and economic integration in the region, particularly for India's northeastern region. Both sides agreed to develop the planned trade and travel infrastructure to facilitate the optimal usage of this new bridge.
Prime Minister Hasina offered India's northeastern region the use of Chattogram and Sylhet International Airport. Bangladesh also noted that Saidpur Airport is being developed as a regional airport for the use of the people of this region.
Noting the ongoing vaccination drive in both countries, they agreed to explore the possibility of resuming regular air travel and lifting restrictions for movement through land ports at the earliest time. They also discussed operationalizing train and bus services between the two countries. They noted that the full resumption of travel will depend on the COVID-19 situation, and India expressed hope that full scale travel will resume soon.

Read the full Joint Statement.