Bangladesh, Sri Lanka Reiterate Aim to Boost Trade and Connectivity
20 March 2021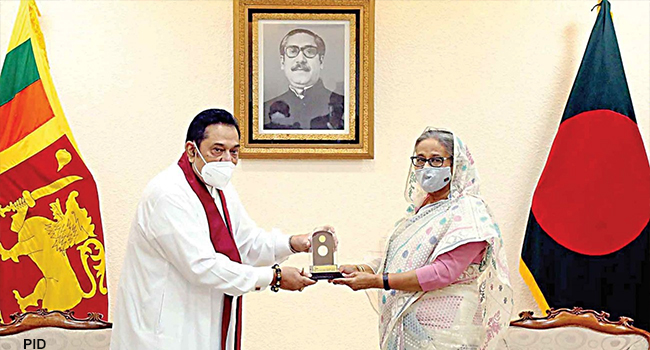 Sri Lanka Prime Minister Mahinda Rajapaksa and Bangladesh Prime Minister Sheikh Hasina held bilateral talks on 20 March 2021 in Dhaka, Bangladesh. The Prime Minister of Sri Lanka arrived in Bangladesh the day before to join the celebrations of "Mujib Borsho" (occasion of the centennial birth anniversary of the founding leader of Bangladesh, Sheikh Mujibur Rahman) and golden jubilee of Bangladesh's independence.
According to the Joint Communique, the two leaders comprehensively reviewed various aspects of Bangladesh-Sri Lanka relations, including boosting high level exchanges, deepening trade, and increasing connectivity. Their dialogue reinforced their goal of further strengthening bilateral relations that is based on sovereignty, equality, friendship, trust and understanding for the mutual benefit of their people.
Boosting High Level Exchanges
The two Prime Ministers underscored boosting high-level exchanges, including the need for enhanced interaction and high-level exchanges. They agreed to revive the Bangladesh-Sri Lanka Parliamentary Friendship Association and encouraged their legislators to play a role in deepening relations between the two countries. Furthermore, they urged establishing a Joint Consultative Commission for Comprehensive Cooperation to be headed by their respective Foreign Ministers with a view to regularly review their bilateral relations. The two Prime Ministers spoke about reinvigorate the existing institutional mechanisms including the Foreign Office Consultations (FoC), Joint Economic Commission (JEC), sectoral Joint Working Groups (JWGs), Joint Programs / Work Plans through this initiative.
Deepening Trade
They also underlined the need for greater bilateral trade. To promote increased trade, they agreed on the following:
Early conclusion of the proposed free trade agreement (FTA) for harnessing the available synergies of bilateral trade. They agreed to immediately complete the joint feasibility study on FTA, work on a bilateral Preferential Trade Agreement (PTA) beginning with a short list of products that could promote expanded trade, investments and tourism in future. They agreed to hold the next meeting of the Joint Working Group on Trade at an early date.
Undertake measures for trade facilitation, including identification and removal of non-tariff barriers, and simplification and harmonization of mutually recognized standards. They agreed to diversify the basket of tradable goods and look for innovative ways to add fresh impetus to trade and commercial relations. They underscored the need to reduce further the number of items under SAFTA from each other's negative lists. In this context, emphasis was given on implementation of the Memorandum of Understanding between Bangladesh Standards and Testing Institution (BSTI) and the Sri Lanka Standards Institution (SLSI) on Technical Cooperation at an early date.
Increasing Connectivity
Shipping is one of the key areas that hold potential for mutually beneficial cooperation between the two countries. Ramping up coastal linkages could result in improved connectivity and open up further opportunities for bilateral trade between the two countries and beyond. The two Prime Ministers called for the early conclusion of negotiations on the draft Coastal Shipping Agreement and the draft Standard Operating Procedure on the Feeder Services between Chattogram, Bangladesh, and Colombo, Sri Lanka, which are at an advanced stage. The two leaders endorsed holding the next meetings of the JWG on Shipping and Shipping Secretary level talks at an early date to iron out the pending issues.
During the meeting, both leaders also witnessed the signing of six Memorandums of Understanding (MoU) to enhance cooperation. These MoUs are on cooperation for (i) strengthening youth development between Bangladesh and Sri Lanka, (ii) Bangla Agricultural Research Council and Sri Lanka Council for Agricultural Research Policy, (iii) Directorate of Technical Education of Bangladesh and Tertiary and Vocational Education Commission of Sri Lanka on Exchange of Documentation on Vocational Qualifications, (iv) training of Bangladesh nurses and health care workers in Sri Lanka, (v) Bangladesh Institute of International and Strategic Studies and Lakshman Kadirgamar Institute of International Relations and Strategic Studies, and (vi) cultural program between Bangladesh and Sri Lanka for the years 2021-2025.
Read the full Joint Communique.
Related
Hasina, Rajapaksa meet: Agree on improving connectivity
Bangladesh, Sri Lanka sign 6 MoUs on bilateral cooperation
Sri Lanka Bangladesh to cut negative list on SAFTA, shipping