Bhutan and Bangladesh Discuss How to Overcome Pandemic's Impact
24 March 2021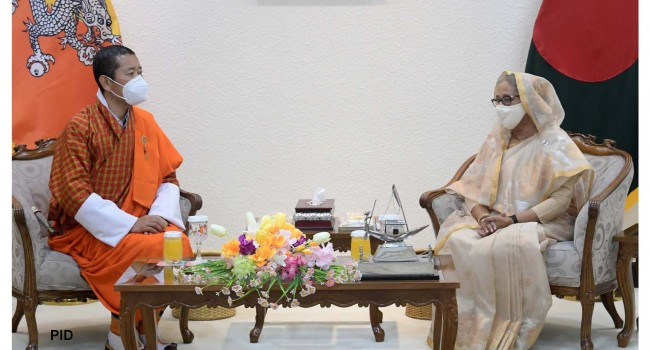 An official meeting between Bhutan Prime Minister Lotay Tshering and Bangladesh Prime Minister Sheikh Hasina on 24 March 2021 in Dhaka, Bangladesh, emphasized boosting trade, connectivity, and cooperation in energy between the two South Asian nations.
Prime Minister Tshering visited Bangladesh on 23-25 March 2021 as the Special Representative of His Majesty Jigme Khesar Namgyal Wangchuck, King of Bhutan, for the celebration of the birth centenary of Bangabandhu Sheikh Mujibur Rahman, Father of the Nation of Bangladesh, and the golden jubilee of Bangladesh's independence. The Ministry of Foreign Affairs of the Government of Bhutan noted that the visit is "an exceptional gesture of friendship and goodwill that so happily exist between the two countries."
Boosting trade and transport
On 24 March, Prime Minister Tshering and Prime Minister Hasina held official discussions. Their meeting acknowledged the impact of the pandemic to the bilateral trade between Bangladesh and Bhutan. In December 2020, the two countries signed a Preferential Trade Agreement. They agreed that all-out efforts must be made to overcome the pandemic's negative impact, and highlighted the need to hold the Commerce Secretary Level Meeting and Foreign Office Consultation at the earliest possible time. Foremost on the agenda is the amendment of the standard operation procedure on the use of inland waterways and the finalization of the Transit Agreement Protocol.
They also called for enhanced private sector cooperation, and urged their Chambers of Commerce to explore innovative ways of doing business. Both leaders also promoted the use of the riverine route among importers and exporters for the transport of goods as an alternative to using the road route.
They also agreed to explore the possibilities of rail connectivity through the recently inaugurated Chilahati-Haldibari rail inter-link between Bangladesh and India.
Prime Minister Hasina reiterated that Bangladesh's seaports are open to Bhutan. Bangladesh's strategic geographical location opens up trade opportunities in the region for all countries in the SAARC, BIMSTEC and BCIM to be connected by road.
Trilateral Energy Cooperation
Noting the substantial progress made in the signing an MOU among Bangladesh, Bhutan and India on trilateral cooperation in hydropower, Prime Minister Hasina and Prime Minister Tshering called for a Secretary-level meeting among Bangladesh, Bhutan, and India to move forward with the discussions. Bangladesh and Bhutan also agreed to explore the potential of bilateral cooperation in this sector.
Read the full Joint Statement.
Related Links:
Pandemic hampers bilateral trade