New Bangladesh-India Friendship Bridge to Herald a New Chapter for Connectivity
9 March 2021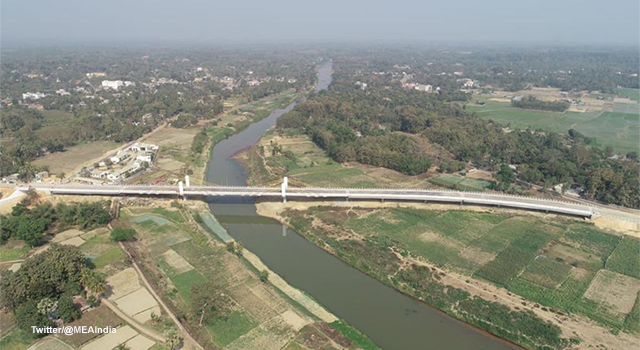 Bangladesh Prime Minister Sheikh Hasina and India Prime Minister Narendra Modi virtually inaugurated the 'Maitri Setu' (Friendship Bridge) between India and Bangladesh and other infrastructural projects in Tripura, India, on 9 March 2021.
The Maitri Setu spans 1.9 kilometres joining Sabroom in India with Ramgarh in Bangladesh. It has been built over the Feni river flowing between Tripura, India, and Bangladesh.
The Prime Minister's Office (PMO) noted in a statement that the bridge is "poised to herald a new chapter for trade and people to people movement between India and Bangladesh. With this inauguration, Tripura is set to become the 'Gateway of North East' with access to Chittagong (Chattogram) Port of Bangladesh, which is just 80 km from Sabroom."
In his remarks during the inauguration, Prime Minister Modi emphasized that the Maitri Setu strengthens the rail and water connectivity projects that have been realized in recent years. The bridge will improve connectivity of south Assam, Mizoram and Manipur, along with Tripura, with Bangladesh and Southeast Asia.
Prime Minister Modi remarked that the entire region of Tripura is being developed as a trade corridor between India's northeastern region and Bangladesh. He shared efforts are ongoing to connect Bangladesh's Chattogram Port with India's northeastern region through an alternative waterway route via the river. The integrated checkpost in Sabroom, India, will be operated like a full-fledged logistic hub with warehouses and container transshipment facilities.
In her remarks, Prime Minister Hasina stressed the historic importance of the event. "We are creating a new era of connectivity in South Asia," she said. The Prime Minister of Bangladesh further underscored that political boundaries in the region should not become physical barriers for trade. The bridge will further boost Bangladesh's trade with Bhutan and Nepal, and expand economic activities in the region.
Related Links:
'New trade corridor': PM Modi inaugurates 'Maitri Setu' between India and Bangladesh
PM inaugurates 'Maitri Setu' between India and Bangladesh
Political boundaries should not become physical barriers for trade: Bangladesh PM Sheikh Hasina