Maldives President Ibrahim Solih on Key Visit to Bangladesh
18 March 2021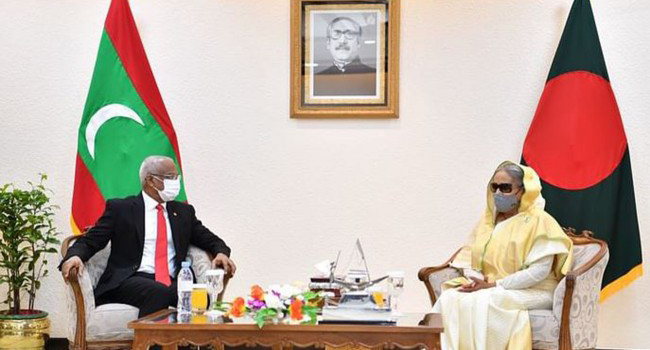 Bilateral cooperation between the Governments of Bangladesh and the Maldives received a boost with the signing of four Memorandum of Understandings (MoUs) on (i) joint commission for comprehensive cooperation, (ii) bilateral foreign office consultations, (iii) cooperation in the field of fisheries and pelagic fishing, and (iii) cultural exchange program for 2022-2025. The signing ceremony was held on 18 March 2021 in Dhaka, Bangladesh, in the presence of Bangladesh Prime Minister Sheikh Hasina and Maldives President Ibrahim Mohamed Solih, following their bilateral talks.
In a tweet on his official Twitter account, Maldives President Solih shared:
Had the wonderful pleasure this morning to meet a dear and valued friend of the Maldives, H.E. Sheikh Hasina, PM of Bangladesh. Our meeting and discussions focused on enhancing the already close Maldives-Bangladesh friendship through greater commercial and bilateral engagement.
Key outcome of the bilateral meeting outcomes included
A consensus to enter into a preferential trade agreement (PFA) to bolster bilateral ties with an emphasis on improving connectivity and trade;
Agreement to expand mutual cooperation in multiple areas, including trade, commerce and investment, following a comprehensive review of bilateral relations;
Agreement to regularly hold Commerce Secretary Level Meeting (CSLM) to address bilateral trade issues in detail. They also agreed to expedite the finalization of the proposed Agreement on Customs Cooperation and the signing of the Agreement on Avoidance of Double Taxation; and
Plans to establish a direct commercial shipping link between Malé, Maldives, and the three sea ports of Bangladesh through a shipping agreement.
President Solih also paid a courtesy call to Bangladesh President Abdul Hamid. President Hamid noted that the visit of President Solih is a milestone that would strengthen the existing ties between the two countries.
In their discussion, the two Presidents mutually agreed on the need for direct air and water connectivity between Maldives and Bangladesh to further enhance trade and investment.
President Hamid also urged investors and businessmen to work together to utilize the potentials of both countries, which includes tourism as a potential sector. He also promoted Bangladeshi products that are of global standards as potential imports for Maldives, including medicine, readymade garments and ceramics.
Related links
Bangladesh, Maldives sign four MoUs to boost cooperation
Bangladesh, the Maldives to sign 4 deals today
Pres. Solih calls upon PM Sheikh Hasina as four key agreements signed in Bangladesh