Sixth Meeting of the India-Nepal Joint Commission Highlights Progress in Cross-border Connectivity
15 January 2021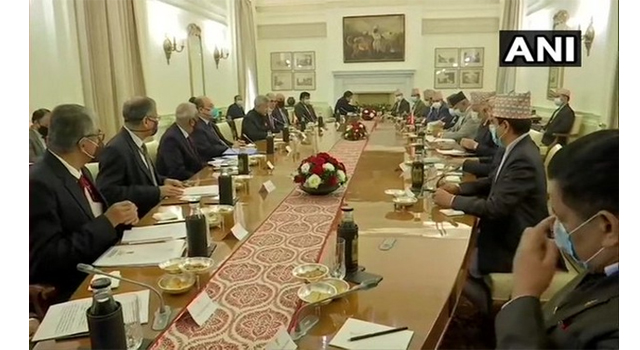 The Sixth Meeting of the India-Nepal Joint Commission discussed several areas of cooperation between India and Nepal. Matters reviewed included connectivity, economy and trade, energy, development partnership, and tourism. They expressed satisfaction over progress achieved in taking forward several bilateral initiatives since the last meeting, including the ramping up of cross-border infrastructure and connectivity. The meeting, held on 15 January 2021 in New Delhi, India, was led and co-chaired by Mr. S. Jaishankar, Minister of External Affairs of the Government of India and Mr. Pradeep Kumar Gyawali, Minister for Foreign Affairs of the Government of Nepal.
The Joint Commission stressed the need to facilitate cross border movement of people and goods. They remarked on how the newly inaugurated integrated check post (ICP )at Birgunj and Biratnagar have promoted seamless movement of people and trade between the two countries. They also lauded commencement of construction of third ICP at Nepalgunj. The meeting also noted that construction of the new ICP at Bhairahwa would soon commence.
On railway connectivity, the meeting welcomed the completion of the first passenger railway line between India and Nepal from Jaynagar to Kurtha via Janakpur, and remarked on the ongoing finalization of its operating procedures. They also took up other cross-border rail connectivity projects, notably a possible Raxaul-Kathmandu broad gauge railway line.
The Joint Commission further agreed to expedite the implementation of planned and ongoing cross-border infrastructure connectivity projects.
The Joint Commission also agreed on the early conclusion of the review of Treaty of Trade, Treaty of Transit, and the amendments to the Rail Services Agreement. They also discussed updates on inland waterway connectivity.
In energy, the Joint Commission agreed to speed up the work for the 400 kilovolt Butwal-Gorakhpur cross-border transmission line.
The meeting highlighted the close cooperation between India and Nepal in overcoming the coronavirus disease (COVID-19) crisis. The Government of Nepal thanked the Government of India for its assistance in the supply of essential medicines and medical equipment and sought its support in procuring COVID-19 vaccines. India assured Nepal that it would receive priority consideration once the vaccines have been rolled out.
Related links
India, Nepal discuss cooperation on border management, political, security issues