Nepal, ADB Sign the SASEC Airport Capacity Enhancement Project
24 December 2020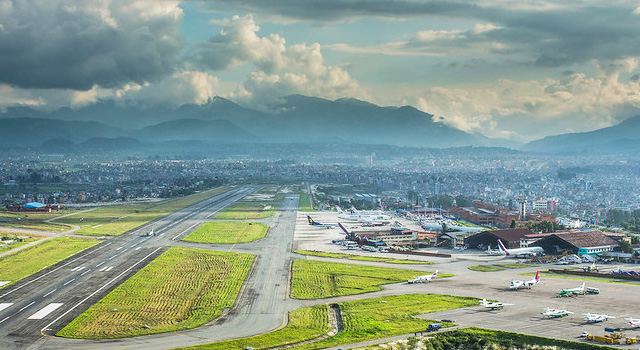 The Government of Nepal and the Asian Development Bank (ADB) have signed a loan agreement for the South Asia Subregional Economic Cooperation (SASEC) Airport Capacity Enhancement Project on 24 December 2020. Mr. Shreekrishna Nepal, Joint Secretary of the Ministry of Finance of the Government of Nepal, and Mr. Rudi Louis Hendrikus Van Dael, Head, Portfolio Management Unit, and Officer in Charge for ADB Nepal Resident Mission, took part in the signing ceremony.
The SASEC Airport Capacity Enhancement Project is a $150 million concessional loan approved in November 2020. The Government of Nepal will also contribute $48 million to the project. The project will improve the capacity of two major airports in Nepal, the Tribhuvan International Airport (TIA) in Kathmandu and the Gautam Buddha Airport (GBA) in Lumbini. Outcomes include (i) construction of TIA airside facilities such as a parallel taxiway extension and hangar aprons; (ii) construction of an international terminal building, Terminal 2, at GBA. GBA Terminal 2 will use solar panels and energy efficient lighting for energy self-sufficiency and incorporate the use of local materials; and (iii) completion of the design for TIA's next phase, which would further expand its capacity and efficiency.
Mr. Nepal lauded the implementation of the program as significantly contributing to the national economy by increasing the existing capacity of Nepal's airspace.
Mr. Van Dael highlighted that the airport project will contribute to improved connectivity, leading to economic growth, once the pandemic has stabilized.
Nepal and ADB also signed a $10 million grant for the implementation of Priority River Basins Flood Risk Management Project during the event.
Related Links:
ADB provides USD 150 million concessional loan for SASEC Airport Capacity Enhancement Project
ADB Loan to Upgrade Major Airports in Nepal