Bangladesh and India Inaugurate Restored Railway Link, Agree to Soon Operationalize the BBIN MVA
17 December 2020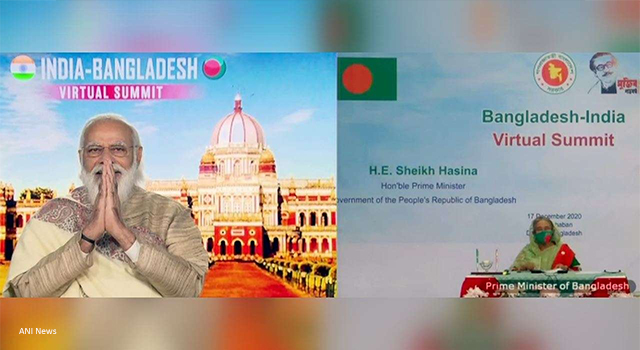 The virtual summit held by Bangladesh Prime Minister Sheikh Hasina and India Prime Minister Narendra Modi on 17 December 2020 reviewed various aspects of bilateral relationship of the governments of Bangladesh and India. These include cooperation in trade, connectivity, power and energy, and health amid the challenges brought on by the coronavirus disease (COVID-19) pandemic.
Bangladesh and India have maintained regular high-level exchanges. In October 2019, Prime Minister Hasina paid an official visit to India. During the COVID-19 pandemic, both countries continued to meet by engaging the virtual platform. The virtual meeting held last December reviewed the progress over updates on decisions taken during Prime Minister Hasina's 2019. The meeting also acknowledged the success of the Sixth Meeting of the Joint Consultative Commission held in September 2020.
The virtual summit reviewed several aspects of bilateral relationship. In transport and connectivity, matters discussed included:
Continued progress made toward the restoration of pre-1965 railway linkages. Prime Minister Hasina and Prime Minister Modi also jointly inaugurated the newly-restored railway link between Haldibari (India) and Chilahati (Bangladesh). They underscored that this railway link will further strengthen trade, and boost people-to-people ties. The train will be put into operation once the COVID-19 situation improves.
Early operationalization of the Bangladesh-Bhutan-India-Nepal (BBIN) Motor Vehicles Agreement (MVA). Both countries agreed on the expeditious signing of the enabling memorandum of understanding that will allow Bangladesh, India, and Nepal to begin the movement of goods and passengers. It will include a provision for Bhutan to join at a later date.
Recent initiatives, such as the signing of the second addendum to the Protocol on Inland Water Transit and Trade (PIWTT), trial run of transshipment of Indian goods from Kolkata to Agartala via Chattogram and operationalization of Sonamura-Daudkandi Protocol route under the PIWTT. Prime Minister Hasina and Prime Minister Modi nodded off on the plan to begin the transshipment of Indian goods through the ports of Chattogram and Mongla soon.
Bangladesh's keen interest in the ongoing India-Myanmar-Thailand trilateral highway project from which they sought India's support. Likewise, India requested Bangladesh to allow connectivity from West Bengal (Hilli) to Meghalaya (Mahendraganj) via Bangladesh.
India's request to have at least one land port with minimal negative list between each of their neighboring states of India and Bangladesh, beginning with Agartala-Akhaura. Bangladesh also proposed that their trucks use the Feni Bridge for transportation of goods from Chattogram port to India's northeastern region once it has been completed.
Active operationalization of the recently-constituted High Level Monitoring Committee, which is headed by the Secretary of the Economic Relations Division of the Government of Bangladesh and the High Commissioner of India in Dhaka. This committee will be tasked to regularly review the progress of bilateral projects for their early completion.
The temporary air travel bubble arrangement between the two countries. Bangladesh also requested the immediate resumption of regular travel through land ports.

In energy cooperation, Bangladesh and India pledged to strengthen cooperation in the area of power and energy connectivity. They also agreed to strengthen subregional cooperation with Bhutan and Nepal.

In trade, the two Prime Ministers discussed matters including the following:
Resolving non-tariff barriers and trade facilitation issues. This includes addressing port restrictions, procedural bottlenecks and quarantine restrictions to enable countries to take full advantage of South Asia Free Trade Agreement (SAFTA) flexibility.
Commendation for the efforts of trade and railway officials to maintain the uninterrupted flow of supply chains during COVID-19. Their initiatives included facilitating bilateral trade through existing rail routes using side-door container and parcel trains.
Expeditious conclusion of the ongoing joint study on the prospects of entering into a bilateral Comprehensive Economic Partnership Agreement (CEPA).
Prime Minister Hasina and Prime Minister Modi also witnessed the signing and exchange of seven agreements by officials of the Governments of India and Bangladesh. Documents signed are as follows:
Framework of Understanding (FOU) on Cooperation in Hydrocarbon Sector;
Protocol on Trans-boundary Elephant Conservation;
MOU regarding Indian Grant Assistance for Implementation of High Impact Community Development Projects (HICDPs) through Local Bodies and other Public Sector Institutions;
MOU on Supply of Equipment and Improvement of Garbage / Solid Waste Disposal Ground at Lamchori Area for Barishal City Corporation;
Terms of Reference of India-Bangladesh CEOs Forum;
MoU between Father of the Nation Bangabandhu Sheikh Mujibur Rahman Memorial Museum, Dhaka, Bangladesh and the National Museum, New Delhi, India; and
MoU on Cooperation in the field of Agriculture.
At the conclusion of the meeting, Prime Minister Hasina thanked Prime Minister Modi for accepting her invitation to visit Bangladesh in March 2021.
Related links:
Press Release by the Narendra Modi website
Press Release by the Ministry of External Affairs of the Government of India
India, Bangladesh ink seven pacts; restore cross-border rail link