India-Myanmar 7th Joint Trade Committee Meeting Vows to Strengthen Economic Partnership
24 November 2020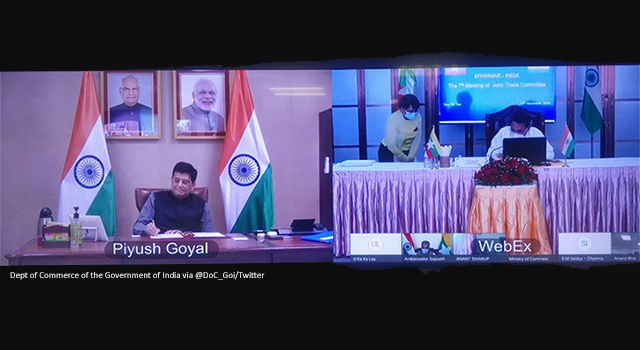 The 7th Joint Trade Committee Meeting between the Governments of India and Myanmar noted that the current level of bilateral trade holds greater potential. Both sides committed to strengthen their economic partnership by enhancing sectoral collaborations and promoting further trade. Additionally, they also reviewed the status of connectivity projects and scaling up of infrastructure at the border, which will further increase trade.
The Meeting was held online on 24 November 2020. It was co-chaired by Mr. Than Myint, Union Minister for Ministry of Commerce of the Government of Myanmar, and Mr. Piyush Goyal, Commerce and Industry Minister of the Government of India.
The meeting reviewed bilateral matters on trade, investment, banking, connectivity, capacity building, and improvement of border infrastructure. Both sides presented how they have prepared to meet challenges brought by the coronavirus disease (COVID-19) pandemic. They also discussed expanding their cooperation in the pharmaceutical and health sectors.
Both parties expressed their appreciation for the finalization of the Project Agreement on the establishment of a modern integrated check post (ICP) at Tamu (Phase I) under a grant-in-aid from India. They also agreed to work closely for the early establishment of border haats for the benefit of local communities at the border.
Both countries expressing satisfaction over the achievements in bilateral economic ties in the last few years. They reiterated their commitment to further boost India-Myanmar trade and investment relations.
Mr. Goyal extended an invitation to Mr. Myint for the next Joint Trade Committee meeting in India in 2021.
Related link: