Foreign Secretaries of India and Nepal Review Bilateral Relations
27 November 2020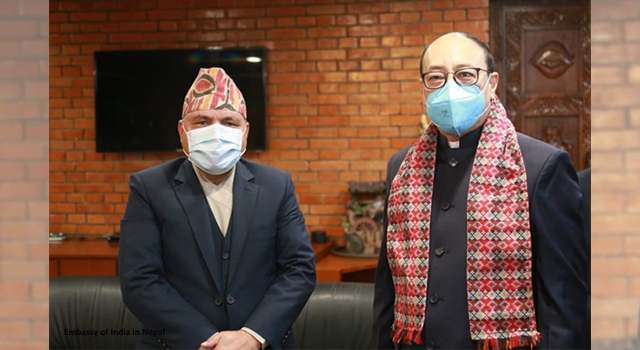 Mr. Harsh Vardhan Shringla, Foreign Secretary of the Government of India, and Mr. Bharat Raj Paudyal, Foreign Secretary of the Government of Nepal, held a bilateral meeting in Kathmandu, Nepal, on 26 November 2020. The meeting of the foreign secretaries was held in an atmosphere of utmost cordiality and friendship, according to the news release from the Ministry of Foreign Affairs of Nepal. Outcomes include:
Review of various aspects of India-Nepal relations, including trade, transit, connectivity, infrastructure, energy, agriculture, investment, culture, and people to people relations;
Discussion of ways to further strengthen ties, building on their multifaceted cordial relations;
Review of progress made on bilateral cooperation projects, including key connectivity projects. Both dignitaries expressed satisfaction over progress in the implementation of projects;
Exchange of views on completing the boundary work in the remaining segments; and
Exchange of experiences on efforts against the coronavirus disease (COVID-19) pandemic.
Mr. Shringla briefed his counterpart on progress made by India toward the development of the COVID-19 vaccine. Mr. Paudyal expressed appreciation to the Government of India for its support to Nepal through supplying COVID-19-related medical supplies and equipment to Nepal.
Mr. Shringla also called on Nepal President Bidya Devi Bhandari, Nepal Prime Minister KP Sharma Oli, and Mr. Pradeep Kumar Gyawali, Minister for Foreign Affairs, Government of Nepal, to discuss matters of mutual interests. Mr. Shringla's visit to Nepal held on 26-27 November 2020 is in line with the tradition of regular high-level exchanges between the two countries.
Related links:
Press Release - Ministry of Foreign Affairs Nepal MOFA