Bangladesh Approves SASEC Highway Project
7 September 2020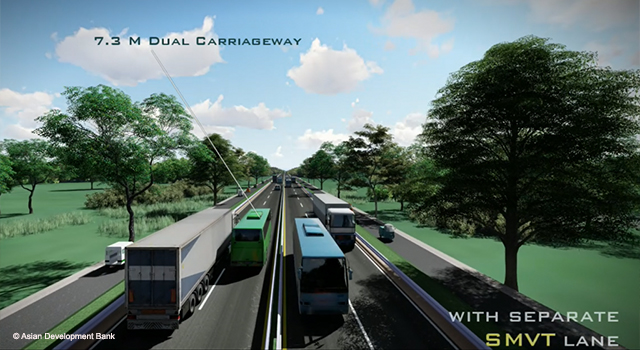 The Bangladesh Executive Committee of the National Economic Council (ECNEC) has approved a road expansion program through the South Asia Subregional Economic Cooperation (SASEC) Road Link Project II: Elenga-Hatikamrul-Rangpur Highway Four-Lane Upgradation. ECNEC is chaired by Bangladesh Prime Minister Sheikh Hasina.
The project will be part of a road network connecting Bangladesh, Bhutan, India, and Nepal that would increase trade and commerce in the subregion. The road will increase subregional connectivity by linking India through Banglabandha, Bangladesh, to Nepal. It will also connect India through Burimari, Bangladesh, to Bhutan.
Construction cost of the 194.4-kilometer (km) road, according to estimates by the Government of Bangladesh, is at BDT11,881.13 crore (approximately USD1.4 billion). Financing will be through project assistance from the Asian Development Bank and the Government of Bangladesh. The project will be completed in 2021.
The road is a priority project of the Government of Bangladesh, along with the construction of (i) the Dhaka-Chittagong highway, (ii) Padma Bridge and its immediate approach roads, (iii) new four-lane Kanchpur, Meghna and Gumti bridges, (iv) a four-lane road between Benapole and the proposed Padma Bridge 2, (iv) the four-lane Dhaka (Kanchpur)-Narsingdi-Sarail-Tamabil highway, and (v) the four-lane Baraierhat-Heako-Ramgarh highway.
Work is already underway to upgrade the 70 km Joydevpur-Tangail-Elenga highway to four lanes, as part of the SASEC Road Connectivity Project, according to Mr. AHM Mustafa Kamal, planning minister, Bangladesh. The project will convert the existing two-lane highway to four lanes to improve road communication with SASEC road corridors 4 and 9, Asian Highway 2, Bay of Bengal Initiative for Multi-Sectoral Technical and Economic Cooperation road corridor 2, and South Asian Association for Regional Cooperation road corridor 4.
Related Link: