India, Sri Lanka Prime Ministers Vow to Further Deepen Bilateral Ties amidst the Pandemic
26 September 2020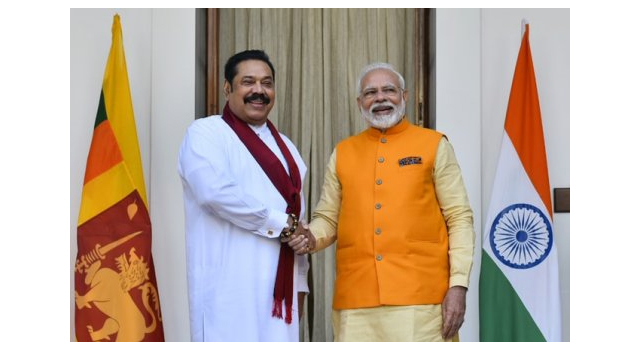 India Prime Minister Narendra Modi and Sri Lanka Prime Minister Mahinda Rajapaksa convened a virtual summit on 26 September 2020. In the meeting, Prime Minister Rajapaksa commended Prime Minister Modi's leadership in the fight against the coronavirus disease (COVID-19) pandemic, as guided by the vision of mutual support and assistance to the countries of the region. Prime Minister Modi reaffirmed India's continued commitment to extend full support to Sri Lanka to help cushion the health and economic impact of the pandemic.
With the current situation presenting a fresh opportunity to boost bilateral relations, the two Prime Ministers agreed on several initiatives to further deepen bilateral ties, including undertaking initiatives on trade, connectivity, renewable energy, and tourism. They vowed to
Facilitate an enabling environment for trade and investment and to deepen the integration of supply chains amidst the challenges posed by the COVID-19 pandemic;
Aim for early realization of infrastructure and connectivity projects, highlighting the sectors of Ports and Energy;
Deepen cooperation in renewable energy, underscoring solar projects under the $100 million Line of Credit from India; and
Facilitate tourism by enhancing connectivity and by establishing an air bubble at the earliest time possible between the two countries. They acknowledged the threat posed by COVID-19, and agreed to take all necessary preventive measures.
Prime Minister Rajapaksa also welcomed India's extension of a grant worth $15 million for the promotion of Buddhist ties between the two countries. The initiative will further deepen people-to-people linkages.
The meeting also noted the "increasing convergence on regional and international issues of mutual engagement, including within the frameworks of South Asian Association for Regional Cooperation (SAARC), Bay of Bengal Initiative for Multi-Sectoral Technical and Economic Cooperation (BIMSTEC), Indian Ocean Rim Association (IORA), and the and the United Nations system."
Emphasizing the importance of BIMSTEC as a platform for regional cooperation linking South and South East Asia, they agreed to cooperate to ensure a successful BIMSTEC Summit, which will be hosted by Sri Lanka.
Related Link:
Government of India's Ministry of External Affairs News Release