India-Maldives Direct Cargo Ferry Service Launched
29 September 2020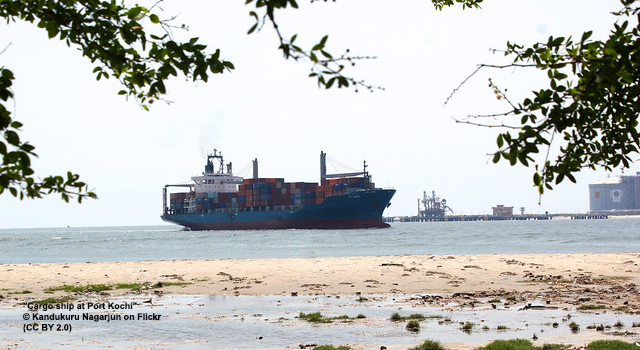 Mr. Mansukh Mandaviya, Minister of State (Independent Charge) for Shipping of the Government of India, and Ms. Aishath Nahula, Minister of Transport and Civil Aviation of Maldives, led the online ceremony for the launch of the direct cargo ferry service between India and Maldives. The ferry service aims to provide a cost effective, direct, and alternate means of transportation of goods between India and Maldives.
Sailing off on 21 September 2020, the vessel with a capacity of 200 TEU and 3000 MT of break bulk cargo left from Tuticorin to Kochi in India, and then proceeded to Kulhudhuffushi port and Malé port in Maldives.
The Shipping Corporation of India will operate the ferry service. It is set to run twice a month, with a turnaround time of 10-12 days, according to a report by the Economic Times. The ferry has a cold storage facility to allow more exports of fish and other marine food items from Maldives. The report also noted that with Maldives being import dependent, improved connectivity with India will help boost bilateral trade and economic activity.
A Milestone in Bilateral Relations
Mr. Mandaviya lauded the ferry service launch as a milestone in the comprehensive bilateral relations between India and Maldives. It will further cement close ties by enhancing people-to-people contact and boosting bilateral trade.
On 27 September, the leaders of both countries expressed felicitations on the launch of the service on the social media application, Twitter. Maldives President Ibrahim Mohamed Solih tweeted:
Our thanks to PM @narendramodi and Govt of India as the Maldives-India Cargo Ferry Service goes on its maiden voyage today between Kulhudhuffushi, Malé and South India. The ferry would further strengthen #MaldivesIndia friendship and bring greater prosperity to our communities.
India Prime Minister Narendra Modi replied, and said "It is indeed a happy day, President @ibusolih! Our dream of a direct ferry service between India and Maldives is now a reality. I have no doubt that it will promote bilateral trade and boost our economies. The Maldives-India friendship will continue to strengthen."
Prime Minister Modi committed to launch a ferry service between the two nations during his visit to Maldives in June 2019.
Related Links: