Commentary: Resume Indo-Bangladesh Border Haats in a Bio-secured Manner
17 August 2020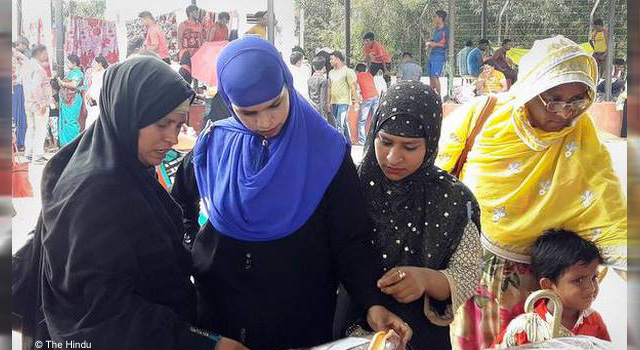 Prolonged closure of border haats will decrease income opportunities for border residents of both India and Bangladesh. But if border haats are to be reopened, operational guidelines will have to be amended to ensure personal and public safety in the time of coronavirus disease (COVID-19).
This piece by Mr. Indranil Bose, associate professor of political science, St. Xavier's College, Kolkata, and Ms. Bijaya Roy, senior research associate, CUTS International, appears on Northeast Now.
Commentary: Resume Indo-Bangladesh Border Haats in a Bio-secured Manner
A worldwide trend is discernible among countries to look upon their international borders no longer exclusively in terms of military security, but rather as meeting points where two adjacent communities can meet up and interact and exchange. Not that security is unimportant or even secondary, but such meeting grounds can facilitate people-to-people connections and cultural exchange that can contribute to improved relations at the grassroots levels between people and communities inhabiting geographically contiguous areas. The more underdeveloped border areas are, the more they are vulnerable and prone to harbor illegal activities, which only adds to the insecurity of such remote regions.
Reflecting this line of thinking, the Department of Border Management under the Ministry of Home Affairs of the Government of India has been implementing the Border Area Development Programme (BADP) through the State Governments as part of a comprehensive approach to border management.
The program aims to meet the special development needs of people living in remote and inaccessible areas near the international border and to provide border areas with essential infrastructure through a convergence of central, state, and local government and BADP schemes and a participatory approach.
Keeping this in perspective, the Governments of India and Bangladesh arrived at a consensus on establishing meeting points where people of the two nations could engage in the trade of commodities produced locally, without having to navigate through documentation processes that are usually required for international travel and trade. Border haats (markets) were thus established.
The border haat is a rough-and-ready market, which allows local people from both countries to trade in vegetables, fruits, spices, food items, agricultural implements, cosmetics, toiletries, garments, melamine products, aluminium products, bamboo products, plastic products, fruit juice, processed food items, and other indigenous products. Such haats are located on the zero line of the border between India and Bangladesh and each buyer is allowed to get commodities of up to $200 a day.
Four such border haats have been operationalized since 2011. Two of these are in Tripura (namely, Kamalasagar-Kasba and Srinagar-Chhagalnaiya) and the two other haats are in Meghalaya (namely, Balat-Dolora and Kalaichar-Baliamari).
In all the locations where border haats are established, subsistence agriculture is the main source of livelihood for the residents. The landless either used to work as laborers or they migrated to towns and cities in search of livelihood opportunities. Border haats have created different avenues of income for these poor and marginalized people who have found employment as vendors, transporters, laborers, and support service providers. Border haats have also created earning opportunities for buyers who resell products in their local markets and thereby manage to earn some profit.
Border haats have been instrumental not only in boosting trade but also in generating livelihood opportunities for residents in these remote border areas. Border haats have therefore directly created income opportunities for all participating stakeholders, viz. vendors, transporters, laborers, support service providers, and even buyers. It has not only given rise to new vocations in the remote interiors of the two countries but has also given people new opportunities to engage in cross-border trade in different capacities. Many of these stakeholders are the sole income earners for their families and the border haat is the only source of livelihood for them.
Not only have these border haats created livelihood opportunities for the people inhabiting remote border areas, these have also provided access to essential products at reasonable prices. At the Balat-Dolora border haat, Indians get fresh vegetables and fish from Bangladesh at a lower price and Bangladeshis gets spices, fruits, and other items from India at affordable prices. A CUTS study has found that while jeera (cumin) costs around $5.31 in Bangladesh, Bangladeshi buyers can get the same at $3.30 at the haat.
It needs to be reiterated that one of the professed advantages of border haats is the reduction of informal trade. The decline in informal trade post-establishment of border haats was primarily due to the creation of local employment opportunities and the permission subsequently granted for the trade in commodities through border haats, which was previously done through informal and often risky channels.
The outbreak of the coronavirus disease (COVID-19) has forced governments of many countries to enact stringent measures, such as national lockdowns, suspension of international trade, etc. From mid-March, 2020, for an undeclared period, India and Bangladesh closed haats along the international border as part of the measures adopted to contain the spread of the virus.
Now, given the significance of the border haats and their positive impact on the local communities, prolonged closure of border haats will be detrimental to the interests of border residents of both India and Bangladesh as it will decrease income opportunities for many people, including many who are in poverty, and make essential commodities unavailable or more expensive.
Additionally, this can also result in the migration of border residents as income opportunities become limited in the border areas. The situation will be even more critical for women as their mobility is restricted given their domestic responsibilities and security concerns—a consequence of occupational segregation due to sociocultural norms prevalent in a patriarchal society such as Tripura on the Indian side and the villages in Bangladesh that are adjacent to the border haat. It is logical to be apprehensive that the pangs of unemployment and hunger might even drive a few toward informal trade that had been predominant in these areas before the establishment of the haats.
To mitigate such inevitable adverse consequences of the suspension of border haats, it is crucial to reopen border haats at the earliest. COVID-19, however, is a problem that is going to stay. Going by projections of medical experts the world over, it seems that we have to reconcile ourselves to the "new normal" where we will be required to abide by various practices pertaining to the maintenance of hygiene, sanitization norms, and physical distancing.
In order to ensure both personal and public safety in this COVID-19 era, it is equally important to ensure social distancing and adhere to other safety norms within the haat premises. While it is time to resume the border haats, one also needs to make certain amendments to the operational guidelines of these border haats in the altered scenario. Some of these include:
A limit needs to be imposed on the number of buyers per haat, and time slots could even be allotted to buyers to prevent overcrowding and ensure physical distance among participants. For example, a batch of say 200 buyers could be allowed to stay at the haat premises for a stipulated period of time; once they have vacated, the next batch will be allowed to enter after an interval that will grant time for some basic cleaning up of the haat premises.
It will also be mandatory for the participants to wear masks, and maintain adequate distance among participants for which vigilance is also necessary. Since this might reduce vendors' profits due to reduction in footfall, the number of haat days could be increased to compensate for the loss of business.
As hygiene, particularly hand hygiene, is extremely important to prevent the spread of the virus, it is crucial to ensure adequate supply of running water in all the washrooms and to sanitize washrooms after each haat day.
The border haat itself could serve as a forum for dissemination of awareness about COVID-19 and the steps that people need to take to contain its spread. A stall on haat premises could be earmarked for the sale of soap, sanitizers, masks, and other items for preventing the spread of the virus. Needless to add that inculcation of health and safety habits will continue to be beneficial to public health even in a COVID-free world.
Owing to the national lockdown in both the countries, it is assumed that the purchasing power of the border residents has shrunk, and their purchase basket might remain limited to essential commodities for the time being. In order to compensate for the losses to vendors due to decrease in spending by buyers, vendors of nonessential products could be encouraged to shift their usual merchandise in favor of essential items only and buyers beyond 5 kilometers should also be allowed to participate in the border haat. Additionally, trade in agricultural and essential commodities through the border haat should be prioritized to ensure food security on both sides.
In short, in view of the importance of border haats to the lives and livelihood of the local communities, there is a need to reopen the border haats, but without compromising the health, hygiene, and safety of participants. In this regard, there is a need to revisit the protocols already in place and revise them; there is also the need to put in place appropriate infrastructure to make the "new norms" workable.
Once reopened, the haats can also serve as a market for new products, such as face masks, hand sanitizers, personal protection equipment, etc. Local womenfolk who are engaged in tailoring can produce face masks and sell these through the border haats, which will provide them with additional income opportunities. Border haats will, thus, have a growing role to play in the world that is emerging.