SASEC Road and Rail Projects in Bangladesh Scheduled for 2021-2023
27 August 2020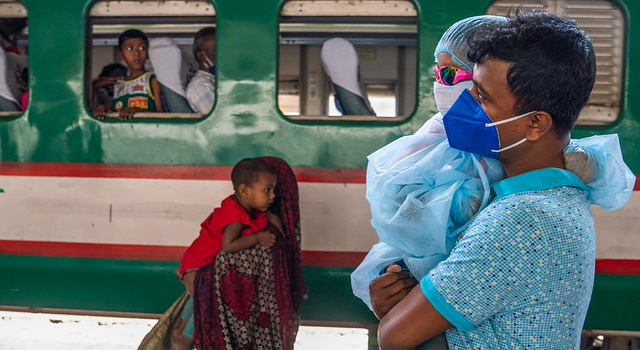 The Asian Development Bank (ADB) has a redesigned financing plan to help Bangladesh recover from the economic effects of the coronavirus disease (COVID-19) pandemic. According to the Country Operations Business Plan (COBP) for 2021 to 2023, ADB's financing priorities in Bangladesh have been adjusted to include more than $11 billion policy-based loans for social protection, economic recovery, and medium-term health programs.
The new COBP is aligned with ADB's country partnership strategy 2016–2020, Bangladesh's 8th five-year plan under preparation, and ADB's Strategy 2030. The plan includes projects in agriculture, natural resources, and rural development; education; health; energy; finance; transport; and water supply and other urban infrastructure and services sectors.
Bangladesh's transport sector would get $1.8 billion under the COBP, with a focus on developing corridors to promote trade, ease congestion, and improve safety. These include South Asia Subregional Economic Cooperation (SASEC) projects that have been set for 2021 to 2023.
The SASEC Tongi-Akhaura Dual Gauge Project, the SASEC Dhaka-Sylhet Corridor Road Project, and the SASEC Trade Facilitation Sector Development Project have been rescheduled for 2021. Phase 2, tranche 3 of the SASEC Dhaka-Northwest Corridor Road Project has been set for 2022, while phase 3, tranche 1 of the project has been scheduled for 2023.
ADB is also supporting the dual gauging of Dhaka-Chattogram rail line, the Dhaka-Cumilla Chord rail line, Chattogram-Cox's Bazar rail line, as well as the Dhirashram Inland Container Depot Project and the Road Safety Improvement Program.
According to the COBP, ADB is providing $5,938 million for firm projects, $5,170 million for standby projects, and $35.6 million for technical assistance programs during 2021 to 2023.
ADB is also continuing its support for gender inclusion, climate resilience, balanced regional development, and private sector participation. The projects would help Bangladesh attain several Sustainable Development Goals.
Related Links: