Bangladesh, India Complete Trial Run on the Daudkandi–Sonamura Waterway Route
5 September 2020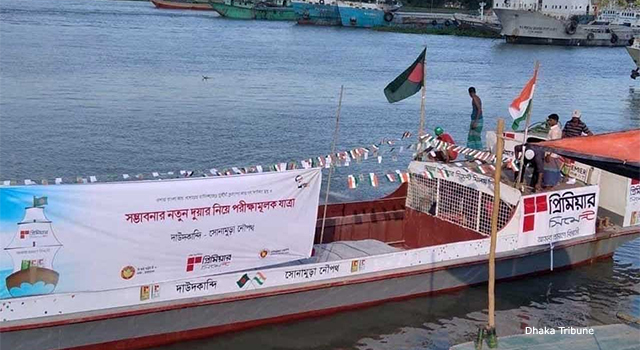 A trial run for the first export consignment from Bangladesh to Tripura, India, through inland waterways was conducted on 3–5 September 2020. The vessel MV Premier was flagged off from Daudkandi, Chattogram, Bangladesh, and was received at Sonamura, Tripura, India in the presence of Mr. Biplab Kumar Deb, Chief Minister of Tripura, and Ms. Riva Ganguly Das, India's High Commissioner to Bangladesh. The barge traveled 93 kilometers along the Meghna-Gomati river route carrying 50 tons of cement.
This new protocol route provides an economical, faster, safer and environment friendly mode of transport, to further facilitate overall bilateral trade with Bangladesh.
India's Ministry of External Affairs lauded the completion of the trial run as another milestone in the relations between India and Bangladesh.
Mr. Deb said Tripura's connectivity with Bangladesh via waterway opens a new horizon. He congratulated India Prime Minister Narendra Modi and the Bangladesh Prime Minister Sheikh Hasina for the milestone. He highlighted how it can boost trade between the two countries, such as by saving around 25%-30% cost if the transport route is shifted to waterways.
He also noted that, according to Ms. Das, the heights of eight bridges would be increased to pave the way for smooth movement of vessels carrying goods from both countries.
The Protocol for Inland Water Trade and Transit (PIWTT) was signed between India and Bangladesh in 1972 to provide inland waterways connectivity between the two countries, particularly with India's northeastern region. In May 2020, Bangladesh and India signed the second addendum to the Protocol on Inland Water Transit and Trade. This added new water routes and ports of call between the two countries, including the Daudkandi–Sonamura route on the Gomati river. This new route is expected to improve the connectivity of Tripura and its adjoining states to the centers of economic activity in India and Bangladesh, uplifting the hinterlands of both countries.

Related links: