Bangladesh Approves Road Widening Project of India Trade Route
19 August 2020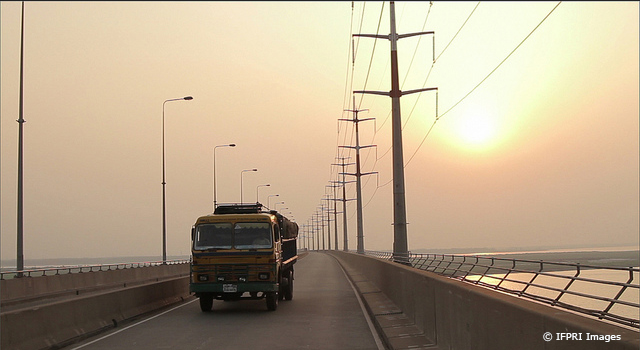 The Government of Bangladesh approved a Tk 848.3 crore (around $100 million) for a road widening project that would help broaden bilateral trade with India. Funding of Tk 581.2 crore (around $68.56 million) for the project is set to come from the Government of India's third line of credit to Bangladesh. Bangladesh Prime Minister Sheikh Hasina chairs the Executive Committee of the National Economic Council, which approved the project.
Under the project, the 38km Baraiyerhat-Hiako-Ramgarh road in the Khagrachhari district will be widened from 5.5 meters to 7.3 meters from January 2020 to June 2022. This would further develop the road network between the Chattogram port and the Ramgarh land port, and open the door for two-way trade between Bangladesh and India through the Sabram/Ramgarh land port, according to the Daily Star coverage. Ramgarh land port is strategically located for trade with Tripura, India. Hence, upgrading the Baraiyerhat-Hiako-Ramgarh road is expected to further boost import and export activities between Bangladesh and India.
The road project aims to establish a safe, developed, and efficient road transport network between the two countries. It also hopes to advance the socio-economic conditions of the people in the area.
Mr. MA Mannan, Bangladesh Planning Minister, said that the project would benefit both countries by helping two-way commerce expand. He added that Bangladesh would also earn revenue from taxes.
Bangladesh decided to charge Tk 2/ton/kilometer (around $0.02/ton/kilometer) in road usage fees for goods from India transshipped using Bangladesh's territory in July.
Related link:
Tk 848cr project approved to widen road to boost Indo-Bangla trade