India Rolls Out Faceless Assessment for Imports
8 June 2020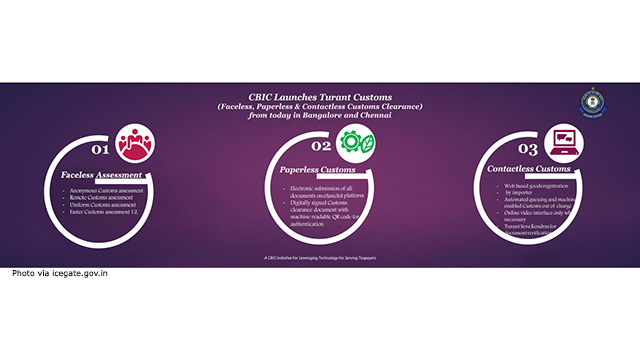 India's Central Board of Indirect Taxes and Customs (CBIC) began rolling out faceless assessments on 8 June, starting with Chennai and Bengaluru. The implementation is being done in a phased manner, with the aim of making it the norm in the country by 31 December.
Faceless assessment enables the assessing officer to examine a bill of entry from any customs station, as assigned by the customs automated system. CBIC explained, "Faceless assessment, also known as anonymised or virtual assessment, will bring anonymity in assessment and cut down the physical interface between the Assessing Officer and the importer or broker to the extent technologically feasible. This will ensure uniformity in assessments across the country, thereby reducing transaction costs and uncertainty amongst the trade."
The initial roll out in Chennai and Bengalaru covers import items specified in the Customs Tariff Act, 1975, chapters 84 and 85--specific machines and electrical equipment.
Pilots for the faceless assessment were conducted by CBIC in Chennai, Delhi, Bengaluru, Gujarat, and Visakhapatnam. These customs stations will also be the first to implement the program.
Faceless assessment is an initial step toward establishing the National Assessment Commissionerates. It has the mandate to examine the assessment practices of imported articles across customs stations and suggest measures to ensure uniformity and enhance the quality of assessments.
Related
CBIC to roll out pan-India faceless assessment by Dec 31, trial underway