BIMSTEC Countries Hope for Increased Cooperation on Road to Recovery from the COVID-19 Pandemic
1 June 2020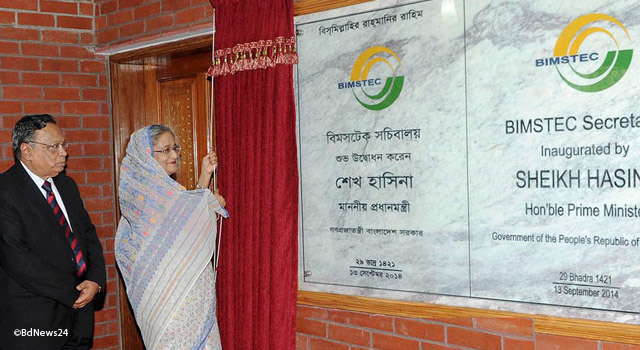 The Bay of Bengal Initiative for Multi-Sectoral Technical and Economic Cooperation (BIMSTEC) marked its 23rd anniversary on 1 June 2020. Leaders and foreign ministers of BIMSTEC member states—Bangladesh, Bhutan, India, Myanmar, Nepal, Thailand, and Sri Lanka—and the BIMSTEC Secretary General expressed their felicitations on the occasion of BIMSTEC Day 2020, and reaffirmed their commitment to building cooperation and increasing resilience through the interregional organization amidst the ongoing coronavirus disease (COVID-19) pandemic.
Sri Lanka, the current chair of BIMSTEC noted that while the BIMSTEC countries represent 22% of the world population, it only contributes 4% of the world GDP, noted Sri Lanka President Gotabaya Rajapaksa. He gave confidence that BIMSTEC can play a more proactive role in uplifting the economic development of its member states through trade, exchange of technological advancement, and development of human capital.
Bangladesh Prime Minister Sheikh Hasina stressed the importance of BIMSTEC as a platform for nations to "collectively address the fallout and challenges stemming from the pandemic." She underscored the serious challenge posed by the pandemic, which will leave long-lasting multiple impacts on the lives and living of people of this region, and cause repercussions in the economic and social progress. The BIMSTEC forum provides an excellent platform to combat the devastating impact of COVID-I9, noted the Bangladesh Prime Minister. She urged everyone not to leave any stone unturned in utilising the platform to address the challenges of the post-COVID-19 era.
India Prime Minister Narendra Modi hailed BIMSTEC's effectiveness in bridging South and Southeast Asia. Thus, BIMSTEC is a natural choice for India's key foreign policy priorities of 'Neighbourhood First' and 'Act East,' according to the Prime Minister. Furthermore, he expressed understanding for the need to come together to overcome the huge consequences of COVID-19. India pledged to extend expertise, resources, capacities and knowledge to help the region to tackle and overcome the pandemic.
Nepal Prime Minister KP Sharma Oli likewise called for a collective response to the crisis. He urged the countries to stand united and fight COVID-19 collectively, and to pool strengths and build better resilience across the region.
Bhutan Prime Minister Lotay Tshering lauded the countries for their handling of the public health crisis. He encouraged everyone to strive together until the crisis is overcome.
Myanmar State Counsellor Aung San Suu Kyi noted the importance of BIMSTEC as a key platform for the achievement of peace, prosperity, and sustainability, and cooperation in areas of mutual interest in the Bay of Bengal region. She hoped the organization will further leverage regional cooperation and respond to new and emerging challenges.
Mr. Don Pramudwinai, Foreign Minister of Thailand, expressed hope that the BIMSTEC Free Trade Area can be realized to reduce logistics cost and encourage more business and people-to-people connectivity. Thailand looks forward to further enhancing cooperation to handle the current and future challenge posed by COVID-19 and achieve sustainable growth.
BIMSTEC countries' initial response to the COVID 19 pandemic was to restrict trade, travel and other forms of connectivity, acknowledged BIMSTEC Secretary General M Shahidul Islam. Countries are now increasingly opening up trade and transport connectivity to restore essential supply chains. BIMSTEC leaders are putting a renewed emphasis on developing regional transport connectivity resilient to disruptions caused by any future pandemic or other calamities, with particular focus on coastal shipping, waterways and railways.
Related links: