Stronger Regional Ties Necessary for India's Economic Development
28 August 2014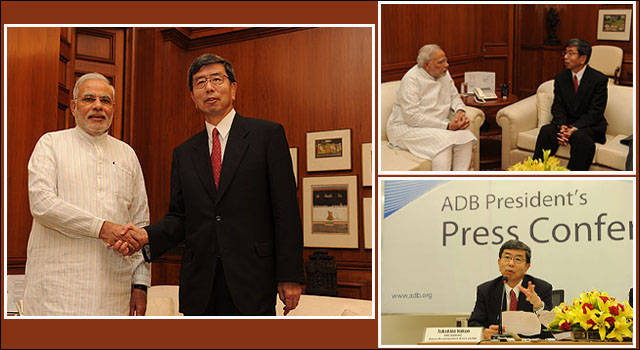 Asian Development Bank (ADB) President Takehiko Nakao expressed full support for Indian Prime Minister Narendra Modi's vision of greater regional integration and connectivity at a meeting on August 27 during a 2-day visit to India. Strengthening ties with South Asian Association for Regional Cooperation (SAARC) countries is a focus of Prime Minister Modi's government. During his first 100 days in office, the Prime Minister has invited heads of government to his swearing-in ceremony, and visited several states, including Bhutan and Nepal. The Prime Minister's office has released a statement asking ADB to prioritize regional connectivity projects that will boost development for the whole region.
Speaking to the Economic Times, President Nakao praised Prime Minister Modi's commitment to build better relationships with India's neighbors. This, he said, is necessary for good trade and investment in the region. Importing power from neighboring countries is also critical to India's development strategy.
India is a member of SAARC and South Asia Subregional Economic Cooperation (SASEC). This year, ADB has already approved funding amounting to $1.2 billion for projects under the SAARC framework, including loans and technical assistance to support subregional roads, hydropower generation, cross border power lines, and trade facilitation. SASEC, started by ADB, has a more project-specific approach focusing on energy, trade facilitation, and transport, and counts Bangladesh, Bhutan, India, the Maldives, Nepal, and Sri Lanka as members.
Related Links: