Assessing the Costs of Climate Change and Adaptation in South Asia
19 August 2014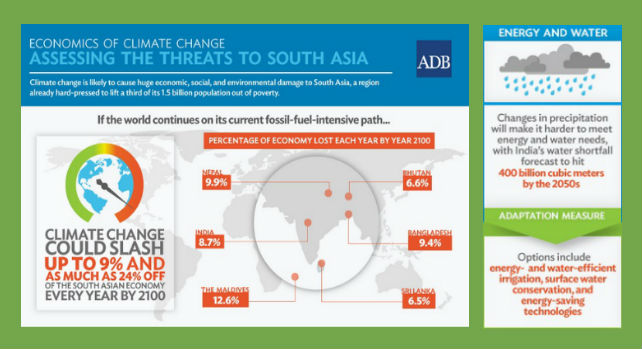 Climate change alters the dynamic of energy security in South Asia with electricity demand projected to grow fourfold by 2030. A rise in average warming will reduce energy needed for warming and increase energy demand for irrigation. Increases in intensity and frequency of extreme events such as typhoons and rising sea levels can cause electrical failures. Climate change effects on climatic variables are also dependent on other factors of economic growth such as demography, land use, and social trends, among others.
Climate change adaptation and variability in South Asia renders most countries vulnerable. In Sri Lanka, for instance, the energy sector is vulnerable to climate change in supply and demand. Extreme weather conditions also affect power supply infrastructure while low rainfall affects levels of hydropower generation. In Nepal, floods and droughts could severely affect hydropower plants, which supply most of the nation's energy needs.
In addition, The Maldives' low elevation and island size makes its power plants and infrastructure vulnerable to flooding and damage. In India, the electrical system runs mostly on coal and reducing greenhouse gas emissions could limit its options for coal. Bhutan's geographic pattern of precipitation and temperature also render it vulnerable to changes in climate. In Bangladesh, persistent power problems, low coverage, and slow industrial growth could also result in annual losses of up to 9% of its economy by the end of the twenty-first century.
Access to energy services affects practically all aspects of sustainable development. Responses to climate change are most effective when fully integrated into the framework of sustainable development strategy and policy. In South Asia, greater cooperation is required among countries to promote capacity building, research and development, and knowledge sharing. Regional cooperation could also include promotion of clean energy and technology transfer to mitigate the challenges of climate change.
Related Links:
Assessing the Costs of Climate Change and Adaptation in South Asia
http://www.adb.org/publications/assessing-costs-climate-change-and-adaptation-south-asia
Bangladesh
http://www.adb.org/news/bangladesh-could-see-climate-change-losses-reach-over-9-gdp-report
Bhutan
http://www.adb.org/news/melting-glaciers-climate-extremes-threaten-bhutan-s-future-report
India
http://www.adb.org/news/india-s-rural-sector-deeply-risk-climate-change-report
Maldives
http://www.adb.org/news/maldives-most-risk-economy-south-asia-climate-change-report
Nepal
http://www.adb.org/news/nepal-may-see-10-gdp-loss-glacier-melts-climate-extremes-report
Sri Lanka
http://www.adb.org/news/sri-lanka-s-coasts-agriculture-under-threat-climate-change-report