India and Myanmar Reiterate Commitments to Boost Trade and Connectivity
28 February 2020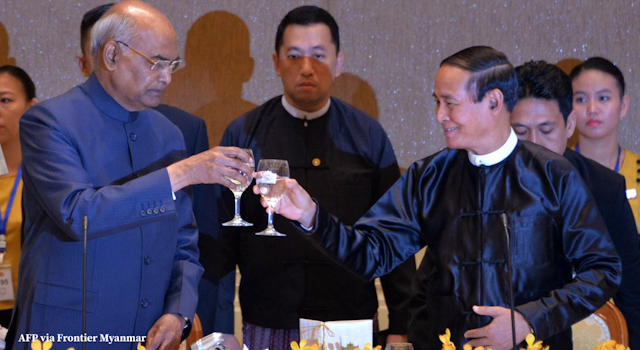 Mr. Win Myint, President of the Republic of the Union of Myanmar paid a State Visit to India on 26–29 February 2020, upon the invitation of Mr. Ram Nath Kovind, President of the Republic of India. According to the news release, the visit reinforced the tradition of high level interactions between the two countries, underscoring their strong friendly relations.
President Win Myint also met with India Prime Minister Shri Narendra Modi, and received a call from Mr. S. Jaishankar, External Affairs Minister of India.
The visit highlighted different aspects of cooperation between the two countries. Outcomes with regards to trade and connectivity include:
Emphasized importance of connectivity and affirmation of their commitments to expedite the completion of various India-funded projects ongoing in Myanmar, to be executed with Myanmar's continued support and facilitation;
Noted the need to further facilitate the easy movement of passenger and cargo traffic by streamlining procedures and fast-tracking development of infrastructure. Both India and Myanmar also welcomed the opening of the two land border crossing points at Tamu–Moreh and Rihkhawdar–Zowkhawthar as international border gates;
Reiteration of India's commitment toward construction of the modern integrated check post as Phase-I at Tamu, Myanmar. Both sides agreed to work together for the earliest commencement of the project;
Commitment by both parties for early conclusion of discussions on the bilateral Motor Vehicles Agreement to facilitate cross-border movement of vehicles. Both sides noted and welcomed the MoU between their respective private operators to launch a Coordinated Bus Service between Imphal and Mandalay by 7 April 2020;
Agreement to commence the establishment of the border 'haats' (markets). A pilot project will be conducted in accordance with an MoU signed in 2012. The border haats will be signed upon finalizing the mutually agreed Mode of Operation;
Acknowledgement of developments in Sittwe Port and the Kaladan Multi Modal Transit Transport Project construction. They reaffirmed their commitment to the early completion of the final leg of the Kaladan project, the Paletwa–Zorinpui road. This road will connect Sittwe Port to India's northeastern region; and
Acknowledgement of the progress on the Kalewa–Yargyi road section of the India–Myanmar–Thailand Trilateral Highway, which is expected to be completed by 2021. India reiterated its commitment to the early upgradation of the 69 bridges on the trilateral highway, which Myanmar will facilitate.
India and Myanmar agreed to continue working on enhancing bilateral trade and economic engagement to further boost the full potential of their cooperation. Initiatives such as improving connectivity, market access, easing financial transactions, facilitating business-to-business connect and enabling bilateral and regional trading agreements would contribute to socio-economic development of both countries.
They also agreed to continue closely cooperating at international fora such as the United Nations and other international organizations, as well as within other regional frameworks, including the ASEAN, BIMSTEC, and Mekong-Ganga Cooperation.
Related Links: