Imphal-Mandalay Bus Service to Start in April
18 February 2020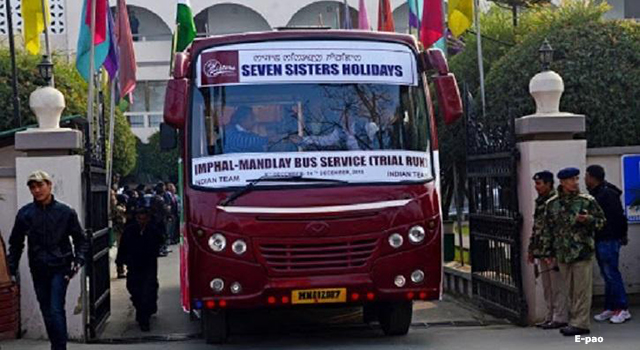 India and Myanmar are launching the Imphal (Manipur, India)–Mandalay (Myanmar) bus service to further promote tourism and people-to-people visits. On 7 April 2020, the new passenger bus route will be inaugurated in Mandalay in a ceremony flagging off a bus bound for Imphal. On 8 April, a bus bound for Mandalay will be flagged off from Imphal. Chief Minister of Manipur N Biren Singh, who is also at the helm of the Transport Department, made the announcement at the State Assembly on 18 February 2020.
The Shwe Mandalar Express Company Limited from Yangon and Seven Sisters Holidays from Imphal partnered to operate the bus route. The Memorandum of Agreement was signed by the two tour agencies on 14 February 2020. Shwe Mandalar Express will offer the bus service from Mandalay to Tamu in Chin State, and the Seven Sisters Holidays will provide the service from Tamu to Moreh and Imphal. According to a representative from Seven Sisters Holidays' Facebook page, while passengers will change buses at the border, one ticket will be issued for the whole trip.
The Governments of India and Myanmar expressed their willingness to start the bus service in 2018 after the border gate opened and the Land Border Crossing Agreement was operationalized. Under the agreement, citizens of India and Myanmar with a valid passport and visa were allowed to cross over without requiring special permission.
Related: